seekingalpha.com/article/272673-s-p-tags-6-post-ipo-laggards-that-could-seek-investors-or-partners
Business Outlook
Based upon the dynamics and anticipated market growth for XBRL related products and services,
EDGAR Online continues to target annual revenue growth in excess of 25 percent over the next three years.
About EDGAR Online
EDGAR Online (NASDAQ: EDGR)
is a leading global provider of XBRL data, software and services solutions that improve the flow of business information. The company's integrated portfolio of products and services for global enterprises help them create, deliver, analyze and use quality information. Thousands use the company's solutions, including U.S. public companies, mutual funds, leading financial analysts and institutional investors, as well as global regulators such as the FDIC, Banque de France and the U.S. Securities and Exchange Commission. The company delivers its solutions, including UBmatrix® XBRL software solutions, through an extensive network of partners, including LexisNexis®, NASDAQ OMX, Oracle, PR Newswire, RR Donnelley and SAP. To learn more about EDGAR Online, visit
edgar-online.com
.
If you're still with me after the above information.............good.
This is a valuable little ( very little ) company.
XBRL is a rapidly growing technology, see below.............
The survey commissioned by EDGAR Online, "Financial and Business Data Services," encompasses data users throughout the U.S. The report reflects the current state of financial data usage in response to the recent implementation of SEC regulations, but also has implications for international markets, which are evaluating and implementing XBRL as a means to deliver greater financial transparency and to close data gaps, allowing for analysis across companies and industries.
"The results of our extensive survey of financial data users show how XBRL adoption will mature as U.S. investors realize its true benefits," said Dave Goldstein, senior managing director of EDGAR Online. "Furthermore, this report is pertinent for regulators abroad who are looking to leverage the firsthand experiences of their American counterparts to bring greater transparency to financial markets. EDGAR Online is dedicated to meeting this goal with dynamic XBRL products and services that create, deliver, analyze and use business information."
So, for me this is a low-risk, high return potential, since the stock is at multi-year lows.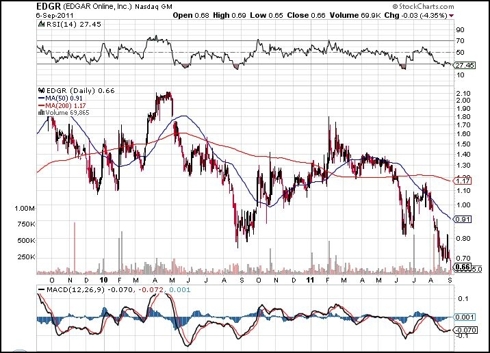 The chart is ugly, but patience will reward long-term investors.
Happy trading, Greg G.
And for much more EDGR info, please read
Miles P. Jennings, JR
here at S/A