COLOMBIA - WAKE UP AND SMELL THE COFFEE
Why 2012 was the story of THE GOOD, THE BAD AND THE UGLY….
Having recently left the sell side analyst community, I took time through the Christmas season to reflect on 2012. At this time last year, I was putting the finishing touches on my 3rd Annual South American Energy Conference, last held in Bogota in January 2012. Completing the conference schedule, finalizing guest speaker scheduling, printing the Q4-11 Colombian Quarterly - all the things that made the last conference the best ever.
What a difference a year makes - and yes, the title of this comment can be taken two ways. Let me explain:
Colombia became of interest to "mainstream investors" in 2010. Colombian-focussed equities exploded to the upside as investors piled into the oil and gas sector and valuations got silly. But savvy investors had been there already, having funded Pacific Rubiales, Gran Tierra and Petrominerales earlier (2007 and 2008). And as readers know, this was in response to the reinvigoration of the oil and gas sector in Colombia with a revised and very attractive fiscal regime and the creation of their new national regulator Agencia Nacional de Hidrocarburos (NYSE:ANH).
Why title this "Wake up and smell the coffee"? Both investors and the country need to do just that as opportunities are being lost by the day.
My first Colombian country report in 2008 was entitled "Open For Business". Were I to write a report on the country today, I think (in keeping with that great old Christmas carol) the title would be more like "You better watch out"! In my view, the country was a victim of it's own success up until 2011. The interest in Colombia was quite overwhelming from both oil and gas companies who saw (and still see) a very underexplored oil-rich country and investors who saw the next "new thing" - a new place to invest their money.
Oil and gas exploration and development activities increased dramatically with the introduction of a new and very attractive fiscal regime and the Colombian governmental agencies were unable to cope with the timely turnaround of requests for information, applications for environmental permits etc. Starting with "relatively normal" turnarounds of three to four months for applications for oil field activities, the turnaround times have expanded since 2008/2009 to now reach unheard of turnaround times of 12 months or more! This despite the acknowledgements of senior agency officials in government who attempt to assure investors and oil companies alike that the issues are being addressed. We keep hearing that the issues are being addressed, but actions speak louder than words.
What is most disturbing to me as a country and oil industry observer is the lack of control (for lack of a better word) by the government generally in the workings of individual departments specifically. While I am no longer a full time observer of the industry, I am very disturbed when I see that (for example), the granting of permits to Pacific Rubiales (OTC:PEGFF) for the testing of wells on what could be a major new oil discovery on Block CPE-6 in Colombia has still not happened - that testing is pretty much a year late now.
Why is that? On my last trip to Colombia (ANH Conference in Cartagena in October 2012) I discussed at length with my extensive network of contacts. "Why was this the case", I asked. There are a lot of "the usual" factors, but it was most disturbing to hear that the root cause seemed to be in the environmental permitting process. I heard many observations and opinions of pro and con oil industry government employees, and oil company employees and others that the National Environmental Licencing Authority (ANLA) in Colombia has key decision makers (and permit approvers) in place who are not in favour of the oil industry and could be deliberately causing the approval process to go much more slowly than it would in "normal conditions".
So let me get this straight - the President of the country supports the growth of the oil industry as a major contributor to Colombia's GDP. The head of the national oil industry regulator (ANH) continues to support the country's oil production growth through bid rounds. The oil production (and oil service) industry supports oil production growth in the country by investing billions of dollars annually in Colombia. The only fly in the ointment is the environmental permit approval process - timely, apparently not. Ample resources? Maybe, maybe not? Desire - apparently lacking. Ah - the head of the ANLA is now directing national policy through obfuscation and delay.
Colombia - wake up and smell the coffee! The oil and gas companies that you attracted (majority Canadian-based) bring state of the art technology and methodologies. They do not operate like the Colombia is a Third World dumping ground, but with procedures and practices that were developed in a very environmentally conscious time. They get it - how are you aiding that process?
Colombia - wake up and smell the coffee! Despite the spin put on at the ANH's October Cartagena conference, which coincided with the release of results of the 2012 Bid Round, the bid round was somewhat of a failure. Out of 115 blocks available for bid, only 49 were actually bid on. Worse, the ANH held a second bid process for the remaining blocks that closed in December 2012 - only one block was bid on. Ouch!
Colombia - wake up and smell the coffee! The oil and gas companies that helped nearly double production from 525,000 bbl/d to 971,000 bbl/d in November 2012 (which is well short of the government's expectations of well over 1.0 million bbl/d in 2012 - permits anyone…..?) have and have found a decidedly bitter taste and collectively said "PASS…..!" to the bid round.
Colombia - wake up and smell the coffee! While the above points may all seem circumstantial, the world's capital markets have voted with their dollars and the country is definitely on fun manager"s and investor's "Naughty" list.
Investors- wake up and smell the coffee! We know that 2012 was the year of "the Good, the Bad and the Ugly". Investors already took notice and share prices reflect that.
From an investment perspective, the Colombian oil space has decidely matured. In 2012, we finally saw the consolidation that has long been expected. The big got bigger and in some cases, one plus one equals….well, the jury is still out on some of those deals. Pacific Rubiales (OTC:PEGFF) made strategic acquisitions for Pacific Rubiales (no surprise) - more diluent to move their increasing Colombian heavy oil volumes and diversification away from Colombia to Papua New Guinea and Brazil! That is one share price that has held up pretty well through the last half of 2012 and it would appear that the company has actually delivered on the Rubiales field production growth as promised early in 2012. But absent a change in investor sentiment (and Colombia's permit approval process), the market appears to just tolerate this stock, despite the continued history of delivering results.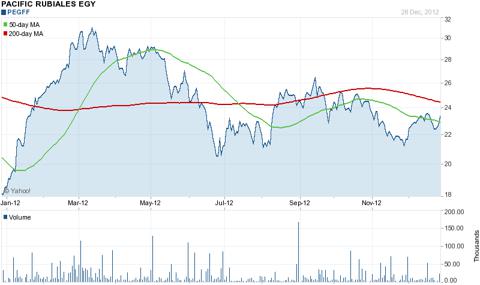 Source - Yahoo Finance
In the case of other companies, Petrominerales (OTCPK:PMGLF) acquired the remaining interest in their discovery block in Peru and also branched out to Brazil. The company's exploration in Colombia's foothills core area was really struggling though in 2012. I am continually being asked who would buy them - but am more worried about how much lower the company's reserves will be at the end of 2012 compared to end 2011 and what that is going to do to their share price - yikes!
Source: Yahoo Finance
Very surprised that Gran Tierra (NYSEMKT:GTE) did not do more on the acquisition front - great production in the Putumayo with growth potential from Moqueta resulting in robust cash flow and a strong balance sheet. Asset consolidation in Peru though - a theme is emerging…..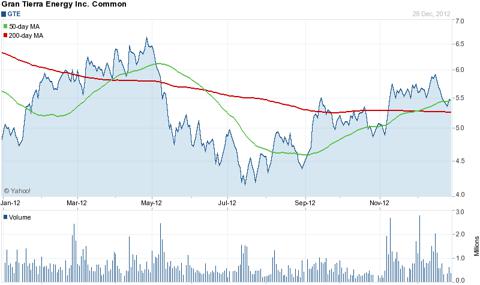 Source: Yahoo Finance
Canacol (CAAED, changed from CAEEF) just merged with Shona Energy (OTC:SHOAF) - had to do something to replace that nasty production decline in 2012! Calendar Q4 2011 Canacol production sales reported at 13,680 bbl/d. Canacol production/sales from latest company presentation (December 4, 2012) says Canacol's current production is 6,900 bbl/d! But Shona assets add 2,700 boe/d…..the theme continues. Oh, a share rollback in late December is bound to confuse investors…..
Overall, for investors perhaps this coffee is freeze-dried. We are sniffing around for potential investments in the Colombian-focussed public companies, but really a fundamental shift must happen in both the management of the country and investors sentiments. Let's hope that 2013 has better markets and better (proper?) valuations are reflected in the Colombian-focussed oil and gas companies. And also that the entrenched management teams in a lot of the underperforming get off their entitlement thinking and merge, creating bigger, stronger companies that can add shareholder value!!!
Disclosure: I am long OTC:PEGFF, OTCPK:PMGLF, CAAEF.PK.