Last week I posted an article on the relative price of a bar of gold and a bar of chocolate – a Hershey bar, to be specific – over the past century.
As it turns out, gold did seem to keep up with the value of a chocolate snack over the generations. But I pointed out that while inflation may be easy to quantify, the "cost of living" is not. Some of the things we "need" (or at least want) didn't exist 20, 50, or 100 years ago. How do you account for the price of a railroad ticket before airlines even existed?
Still, Agbug left an interesting comment on that article wanting to see the relationship between gasoline and silver.
If I had the tools at my disposal I would go back to 1951 to the post war boom in the automobile and the suburbs. I would expect a flat line until 1970 something. ..

 

What I would expect to see is $.29/gallon in the 50s and 60s, then a climb to our current levels with huge variation, with silver being somewhat over-priced currently. The melt value of a quarter is at $6.35 at $35/oz….

 

Are you game, Richard? Thanks.
Sure I'm game, so here goes:
First, here's the price of gasoline, using annual data to 1975, and monthly data after that from data from the Department of Energy. Their pre-1975 data comes from something called Platt's Oil Price Handbook and Oilmanac. ("Oilmanac," I like that!)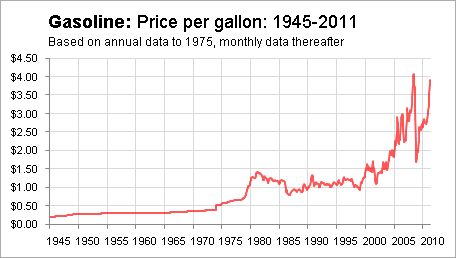 So Agbug was right, gasoline was priced at a pretty steady 20 to 30 cent price per gallon from the end of World War II to the mid-1970s. So here's the gasoline/silver ratio – or how many gallons of gasoline you could get for one ounce of silver.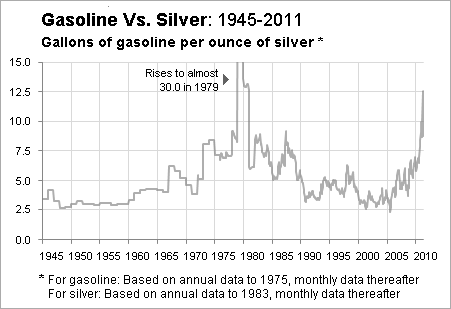 For example, in 2008, gasoline prices hit about $4, but back then, silver was about half of today's price. So with gasoline near $4 again, you'd get more gasoline per ounce of silver now than three years ago.
"Give me a dollar's worth"
Silver is interesting because until 1965, US coins were made of 90% silver. As Agbug mentioned, the "melt value" of one of those pre-1965 quarters is about $6.35 (assuming with silver at $35 per ounce) because it contains 5.625 grams of silver.
In the olden days, you'd pull into the gas station and tell the attendant "give me a dollar's worth." (No self-serve back then). So in the early1960s, that would have been about three gallons or so. You might pay with four of those 90% silver quarters. No big deal back then because the silver in a quarter wasn't worth more than 25 cents.
Today, it's a different story. So here's a fun way to look at it. What if you could buy gasoline with those old silver quarters? How much gasoline would "a dollar's worth" – or 4 of those quarters get you today?
This chart shows the silver value of those four quarters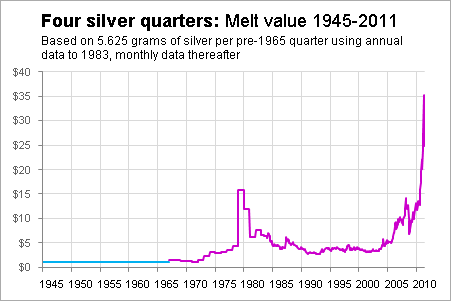 The data is based on annual average silver prices until 1983, then monthly data. The blue part of the line represents the era when the silver in a quarter was worth less than 25 cents, with the purple line showing when it was worth more
Using this data, here's a chart showing these values in terms of gasoline – or how many gallons of gasoline you'd get for "a dollar's worth" of silver quarters vs. the same dollar in "regular' quarters (or any other form of US currency).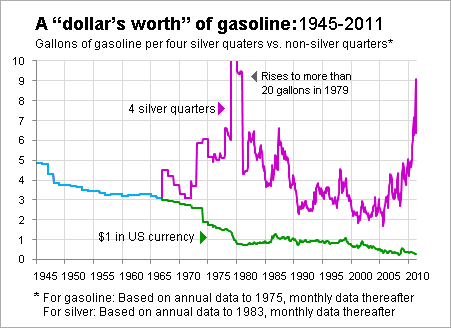 The blue line shows the era when it didn't matter whether the quarters were silver or not, with the purple line showing the gasoline equivalent of 4 silver quarters after the mid-1960s and the green line showing that value in terms of a plain old US dollar – in coins or paper.
The difference is striking. The melt value of four of those silver quarters would get you about 6 of gasoline today. (It was about 9 gallons when silver spiked to near $50). With four non-silver quarters, you'd only get about 0.25 gallons of gasoline today.
Evaluating the true cost of living
Let me point out that I don't think these comparisons are nearly as meaningful as some would claim because data like this doesn't represent what's really most relevant, the cost of living. Commuting patterns, miles per gallon, lead in the atmosphere, number of drivers per family, and plenty of other factors all influence "the cost of driving."
I'm not suggesting that inflation doesn't exist. A look at the amount of money in circulation clearly shows that it does – but cost of living data is certainly more nuanced and complex than simply indexing baskets of commodities and products, especially when going back many decades.
Still, I'm happy to have answered Agbug's question and I think we'd both agree that a dollar's worth ain't what it used to be, certainly in terms of gasoline and silver.