The January home sales report from the National Association of Realtors shows existing home sales rose for the third consecutive month by 2.7% month-on-month and 5.3% year-on-year to a seasonally adjusted annual rate of 5.36 million.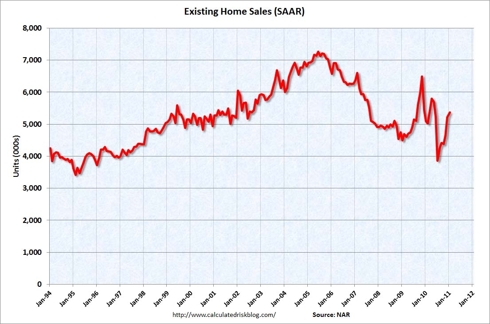 Courtesy of CalculatedRisk
The headline number is encouraging but one thing to note is that a big chunk (37 percent) of those home sales were foreclosures and other distressed properties. There have been reports of widespread paperwork errors back in October and many major lenders had to temporarily halt foreclosures. It may be that some of those sales that would have normally taken place in October, November and December were delayed into January.
As such the rise in sales might not reflect a very strong underlying demand, but a delay of which now got satisfied with the returned supply of foreclosures. And a rise in foreclosures tend to pull down prices, this does not bode well for market confidence. Median price nationwide fell 3.7% to US$158k in Jan.
The housing market may have stabilized somewhat but the recovery is still slow and fragile.