Nokia (NOK) broke out on a candle chart on 11/19/12; and it broke out today on a point & figure chart, which is the best pure indicator of a stock's supply/demand picture.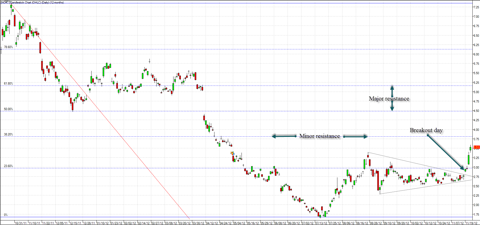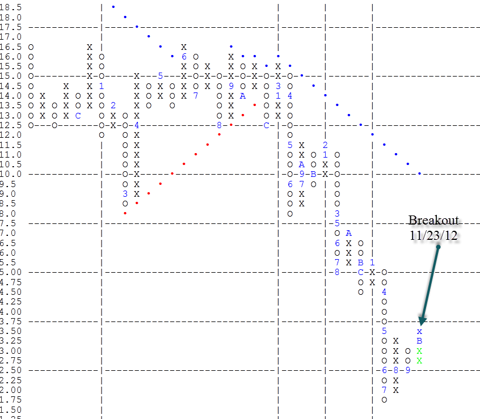 We are betting that this breakout is the real deal; and we intend to continue to cash in. We sold NOK October 3.00 puts for .40 in late August and were assigned the shares at a net 2.60. We next aggressively sold December 3.00 puts a month ago at .42 to triple the existing position; and they are likely to expire worthless. This will reduce our net entry price down to 1.76.
The trailing yield on the stock we will hold at 1.76 is almost 15%.
Today's price action (11/23/12) closed a candlestick gap at 3.54. We expect the stock to consolidate or retrace at 3.80, in which case, we may add to the position by selling January 4.00 puts. We'll likely sell calls to cover when the stock hits the 4.50 - 5.00 range, which is real resistance.
The key to the success of this trade has been inflated option implied volatility levels for this stock over the past several months.
Happy holidays!
Disclosure: I am long NOK.