The chart below is my main weapon for trading intermediate term moves.
While the blow-off uptrend remains intact - and new rally shouts loud and clear that the blow-off uptrend continues - following the trend and the trend trading indicator at the bottom of the chart is the way to go. If the green line crosses above the high risk - exit - level I will take my profits and go to cash. If the trend turns negative I will switch my long positions to short positions.
If that happens then the direction of the ADX line will dictate whether to follow the contrarian indicators at the top of the chart, or follow the trend trading indicator at the bottom of the chart to enter and exit trades.
The blue circles show how the contrarian indicators can remain extremely overbought when the ADX line is rising, while the green and red circles show how the contrarian indicators oscillate from oversold and overbought and oversold and overbought while the ADX line is trending down.
The breakout to new highs for the NASDAQ should turn the ADX north later this week, early next, in which case the current environment would remain a blue circle event. If the rally falters and reverses then the ADX line would remain in a southward trajectory and the contrarian indicators would be expected to head to the oversold extreme and the stock market goes pear and bear shaped in a hurry.
Right now the stock market trend remains in blow-off rally mode, with the technical ducks moving constructively in favor of the bulls, so long as the NASDAQ remains above that red line marking the breakout above last September's peak. An acceleration in a 1999-style melt-up is a very real possibility over the next month or so.
Kevin.
If you would like a six month free trial to my alphaking newsletter sign up for the 30 day trial at alphaking.com, click on the verification email, and we will adjust to six months. I run four tracking portfolios - so lots of stocks to buy and sell! - as well as a 401K advisory for those looking to make and protect money in their retirement nest-egg.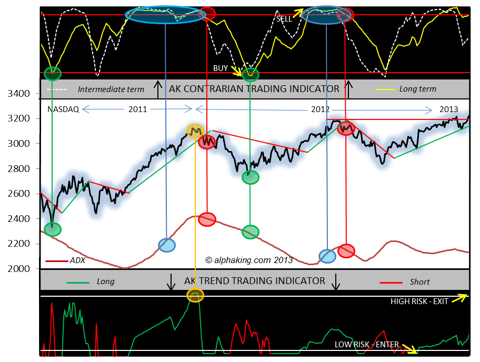 Disclosure: I am long QLD.