The chart below shows how the current stock market movement compares to past cycles, with the most recent data as of the close yesterday, and is subject to change by months end, as it uses monthly data and we are only half way through March.
The bull/bear cycle divides the stock market into four distinct phases based on risk (for the bulls) - low, moderate, high, extreme - with 2013 (black line) in the High Risk variety (orange line.)
As you can see, current NASDAQ performance is almost exactly what was expected for the first three months of this year. If the pattern holds we are facing a continuation of the gains over the next few weeks that leads to a peak of some significance going into April, with the rally potentially stretching into early May.
Unlike the other three phases of the bull/bear cycle, high risk years can be very short - sometimes lasting only a month or so, sometimes a year or more - and the blow-off is over the first time the bears secure a big victory on any of the corrective attempts, something they failed to do the whole of last year.
While the orange line may not look too scary to the bulls, remember the red/maroon extreme line can commence at any time, with lagging volume (white line top of my divergence/confirmation chart,) excessive investor sentiment (white line bottom of my economic/sentiment chart,) and failure of the NASDAQ 100 and semiconductor ETFs (QQQ and SMH) to confirm the breakout, suggesting the peak that delivers the big bear win that starts the red/maroon extreme line will land on the sooner end of the possibly spectrum rather than on the later end.
If the Qs and SMH breakout I believe we face a stock market top in late April, early May. If they rollover without sealing such a breakout, then the top is likely to land around current levels.
Either way, the red/maroon line in the chart below is what comes next, once the current blow-off exhausts itself, and I am looking for a place to take profits on longs positions and move to cash. Indeed, I started that process yesterday.
Kevin
If you would like a six month free trial to my alphaking newsletter sign up for the 30 day trial at alphaking.com, click on the verification email, and we will adjust to six months. I run four tracking portfolios - so lots of stocks to buy and sell! - as well as a 401K advisory for those looking to make and protect money in their retirement nest-egg.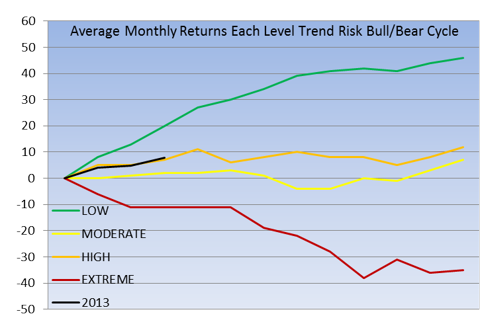 Disclosure: I am long QLD.