The stock market has REALLY moved into decision-time of top-is-in versus support will hold to drive stocks to at least one more rally push to new highs.
The McCellan Oscillator has crossed the de-trended Bollinger Band extreme (green circle far right bottom of chart below.) Past trades from that short term contrarian trading indicator are marked in green. Note the new buy needs the McCellan line to move back across the dotted red line before the signal becomes active.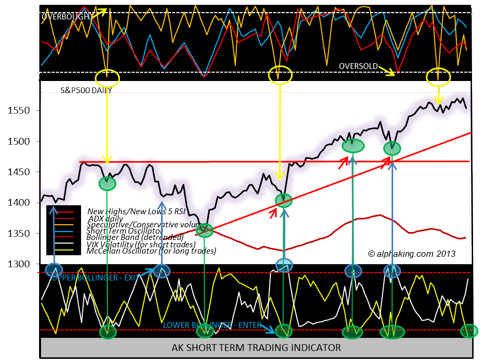 The VIX is also close to crossing above its Bollinger Band extreme, with the blue circles highlighting past new buys from the VIX. The red arrows highlight when both the VIX and McCellan trigger new buys both together.
Remember, the stock market has to calm and recent selling stop to allow the McCellan to rise above the Bollinger Band line to trigger the new buy.
These are VERY perilous times, and the top may very well be in, and I will exit all long positions, no matter when they were entered, if the NASDAQ closes below the 3180 level. For now I am giving the bulls the benefit of the doubt, especially if the McCellan triggers a new short term buy later this week.
The futures are in the green this morning, and if we stay green into the close then the new buy signal from the McCellan/Bollinger Band indicator would likely be confirmed.
Kevin
If you would like a six month free trial to my alphaking newsletter sign up for the 30 day trial at alphaking.com, click on the verification email, and we will adjust to six months. I run four tracking portfolios - so lots of stocks to buy and sell! - as well as a 401K advisory for those looking to make and protect money in their retirement nest-egg.
Disclosure: I am long QLD.