This is the weakest and sickest rally I have ever seen!
Just look at all the red arrows in the confirmation/divergence chart below. White volume line - red arrow, as volume failed to confirm the rally. The sickly looking golden/greenish line of SMH - red arrow, as SMH failed to confirm the breakout of other indexes. The green ADX line - new red arrow, as the ADX has turned down, while the yellow contrarian indicator line breaks below the extreme overbought line. The blue New Highs as a percentage of total shares traded line - new red arrow as the plunge confirms last week's sell-wave, highlighting that individual stocks are acting much weaker than the indexes themselves.
--------
If you would like a six month free trial to my alphaking newsletter sign up for the 30 day trial at alphaking.com, click on the verification email, and we will adjust to six months. I run four tracking portfolios - so lots of stocks to buy and sell! - as well as a 401K advisory for those looking to make and protect money in their retirement nest-egg.
--------
That leaves one green arrow - the Dow Transports, which, while struggling of late, remains north of any serious breakdown. A similar situation for the IAI broker-dealer line, which initially confirmed the breakout run, though has been acting very weak since the first quarter drew to a close.
The short position I am adding at the open today (ULTA) should be viewed as a short term trade, and should only be followed by those investors and traders who understand and accept the additional risk shorting stocks pose. I will wait for the trend to turn officially negative before aggressively adding short positions and inverse ETFs, which should come later this week, early next, depending on how fast further red ink distribution selling materializes.
In short: this is the weakest and sickest market I have ever seen - thus holding longs is extremely difficult to justify - and I expect the selling flood-gates to open for real in the non-too-distant future, with cash the king while stubborn bulls keep the trend positive.
Kevin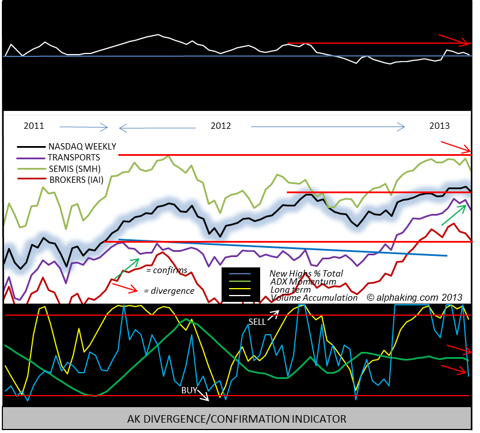 Disclosure: I have no positions in any stocks mentioned, but may initiate a short position in ULTA over the next 72 hours.