The blue circle far right of the short term indicators chart shows the VIX moving across the upper de-trended lower Bollinger band line yesterday, which is a SET-UP move to a potential short term buy signal in the non-too-distant future.
That should be viewed as A) a set-up (not yet confirmed,) and B) any rally should be expected to be short-lived and lead to lower prices as the intermediate term technicals over-power the shorter term ones.
The blue circles and blue arrows show the past buy signals from this VIX/Bollinger band extreme indicator, with some of past buys making new highs, while others struggled or made near-double top moves that eventually led to lower prices. I expect this new short term buy - when it comes - to be of the latter variety, and I want to be short stocks coming out the other side of this new short term buy.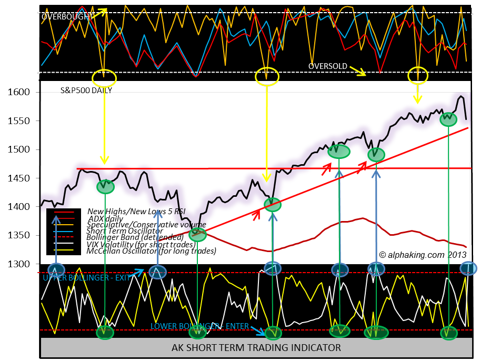 What is needed to trigger the short term buy is the stock market to experience a calm day that allows the VIX to move back across the dotted line Bollinger band line. Note crashes are four day events that see the VIX sky-rocket higher every day, hence the need to wait for the calm day before acting on this new buy set-up.
Sideways churn that ends with another spike down would be perfect, and my expectation, with the short term buy triggered on the expected rebound. Do not use that as an excuse to hold onto longs you are worried about, as the stock market CAN crash here without any such bounce first.
I expect to be an aggressive trader later this week. On the long side if I get the VIX/BB buy I expect, or on the short side if the slide continues so far that it triggers a change in trend from up to down.
Today appears to be tracking my sideways churn that ends with another spike down expectation nicely, and the VIX has popped back below the de-trended Bollinger band line (at time of writing, and subject to change by the close, and I will update the chart to reflect today's move at that time.)
I would wait for stocks to smash below yesterday's lows before acting on the buy signal, and sell and possibly sell short if the current rebound pushes higher without seeing a further washout, as the intermediate term indicators - which I will show in tonight's update - are screaming to sell and sell short, and I only want to take a stab on the long side in the short term if all the technical ducks land perfectly.
In short: top is likely in, with a month or so of plunging correction - possible start of next bear phase - expected, though we can expect a short term bounce to complete the right shoulder of a head and shoulders top once yesterday's sell-wave completes, with another painful (for complacent bulls) day of red required to set the neckline before the market would be in position to bounce.
Kevin
If you would like a six month free trial to my alphaking newsletter sign up for the 30 day trial at alphaking.com, click on the verification email, and we will adjust to six months. I run four tracking portfolios - so lots of stocks to buy and sell! - as well as a 401K advisory for those looking to make and protect money in their retirement nest-egg.