High volume plunges followed by low volume rebounds is very bearish action.
While the VIX did slip below the upper Bollinger Band (that I mentioned Monday evening as required to trigger a short term buy signal,) that buy is expected to deliver a tepid advance that forms a right shoulder of a head and shoulders top, with the peak expected around current levels.
That lack of further rally potential, along with the intermediate indicators signaling a short entry, has me taking the bearish view here, rather than jumping on the short term buy signal from the VIX/Bollinger Band extreme indicator.
That short term buy signal should prevent the market from falling off a cliff here right away, and I expect sideways churn to be the trading pattern over the next week or so, with current levels marking the peak, and an expected move below Monday's lows slated to mark the lower end of the range to set the neckline.
Selling short at the top of the range, buying the lower end, is my shorter term trading plan, though I expect to be full-on positioned short next week when the head and shoulders top should be complete, and the real selling panic begins.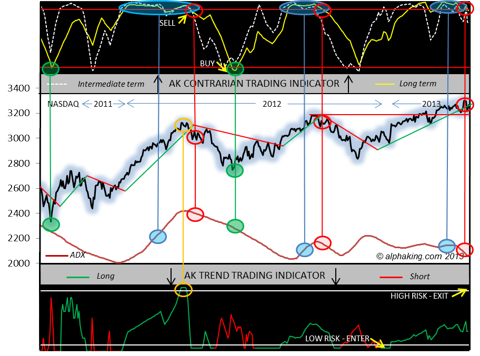 The blue circles in the chart below highlight how the contrarian indicators (top of chart) can remain above the extreme overbought line for an extended period when the ADX is rising, with a rising ADX confirming strong momentum with the trend. The red circles highlight what happens when the ADX turns lower while the contrarian indicators have been in overbought territory for a while.
The recent red circle sell signal remains in place, with an expected move to the oversold extreme expected for the yellow long term contrarian line as the stock market suffers a painful (for complacent bulls) correction that may open the door to the next Great Bear.
If you would like a six month free trial to my alphaking newsletter sign up for the 30 day trial at alphaking.com, click on the verification email, and we will adjust to six months. I run four tracking portfolios - so lots of stocks to buy and sell! - as well as a 401K advisory for those looking to make and protect money in their retirement nest-egg.
Kevin
Disclosure: I am long PSQ.