If you would like to track updates on the charts shown below sign up at alphaking.com, click on the verification email, and get SIX months access to my on-line newsletter for free!
The technical picture is becoming clearer as to exactly where we are in the high risk blow off phase of the bull/bear cycle. The first chart shows the Dow Jones Industrial Average rocketing nicely to a touch of the upper trend-line of an expanding triangle with point E near the 16,000 level. That was the target of my 2013 forecast I wrote about late last year, and I'm sticking by that call now the Qs have broken out to confirm the rally and continue to act well technically. Update continues below chart…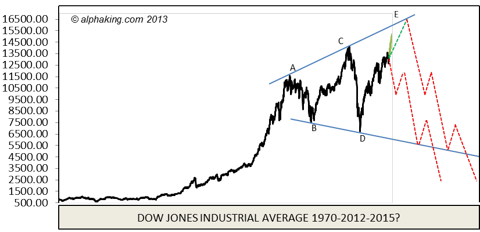 The black line of 2013 continues to head north mildly above the orange line of expectations during High risk phases, though this month is in its early days, thus the last part of that black line is subject to change, as it is based on monthly closing data. Either way, we are overdue beginning the corrective churn phase highlighted by numbers 2 through 5. Update continues below chart…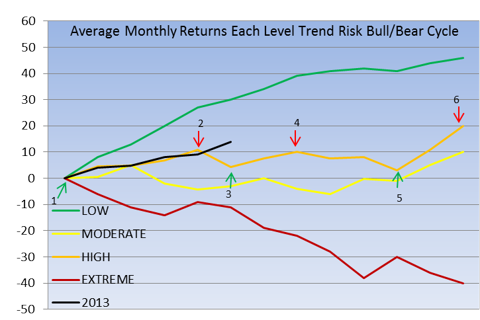 The trend momentum power rating remains a very strong 80% bull.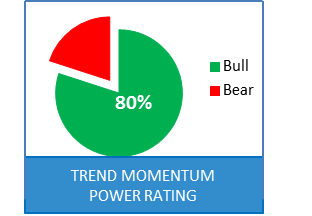 The steady as she goes energizer bunny rally continues, with the bears remaining in danger of getting run-over as we enter a potential acceleration phase.
No changes to the divergence/confirmation chart below, with everything except volume confirming the rally. It never pays to bet against such strong confirming action.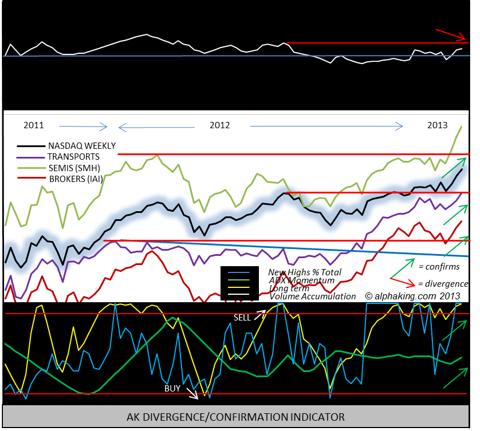 Excessive investor optimism, such as margin debt hitting the super high levels that marked the 2000 and 2007 peaks, is a major warning that we are near the end of the good times, not just starting them.
The normal expectation at this part of the cycle would be for the blow off to continue for a couple more weeks or so as we test the upper trend-line of an expanding triangle near Dow Industrial 16,000 (see chart above,) which is followed by a usual correction of about 9-12%, with one final rally landing in late summer to complete the bull market off the 2009 lows. If so, that would put us in position for a royal melt-down to start the next Great Bear to close out the year.
I have my trading plan in place, whether the future follows the usual pattern, or something entirely different. Right now that plan calls to do nothing - hold longs - with me looking to sell into strength later this month, and maybe buy some more on dips that land before then.
This WILL end badly, so don't be fooled by this calm market, as I expect 2013 to be remembered as a very volatile year, probably one that proves a bull killer once the 1999-style blow off party ends later this spring/summer.
Kevin
If you would like to track updates on those charts you can take a six month free trial to my alphaking newsletter. Simply sign up for the 30 day trial at alphaking.com, click on the verification email, and we will adjust to six months. I run four tracking portfolios - so lots of stocks to buy and sell! - as well as a 401K advisory for those looking to make and protect money in their retirement nest-egg.
Disclosure: I am long QQQ.