The trend has officially turned negative.
I have cautioned over the past few weeks that the stock market was likely forming the mother of all stock market tops - see the blogs below this one - and yesterday we get the official sell signal.
If you would like to track updates on the charts shown below sign up at alphaking.com, click on the verification email, and get FIVE months access to my on-line newsletter for free! This is a limited time offer that will not be repeated in 2013.
On Tuesday I outlined the scenario where stocks had broken out of, and below, the red circle in the main of body of the chart below, and how such instances in the past had led to a rally back the prior breakdown point, represented by the horizontal yellow lines. That move appears to have completed.
Since the ADX line continues to fall, the indicator to watch is the yellow line of the contrarian indicator top of chart below, which remains well above the extreme oversold line, thus holding shorts at this juncture remains the trade offering the highest profit potential with the least amount of risk.
The 50 day moving averages, along with those prior breakdown zones near S&P500 1610, Dow Industrial 15,000, and NASDAQ 3,400, should provide formidable resistance to future rally attempts. Expect the bulls to panic once recent lows get taken out, potentially in outright crash mode they all try to exit at the same time as margin calls get triggered.
There will be a terrific buy coming out of this bear corrective phase, though the move between then and now can be quite scary for complacent bulls who believe the markets are a one-way animal.
If you would like to track updates on those charts you can take a five month free trial to my alphaking newsletter. Simply sign up for the 30 day trial at alphaking.com, click on the verification email, and we will adjust to five months. I run four tracking portfolios - so lots of stocks to buy and sell! - as well as a 401K advisory for those looking to make and protect money in their retirement nest-egg.
Kevin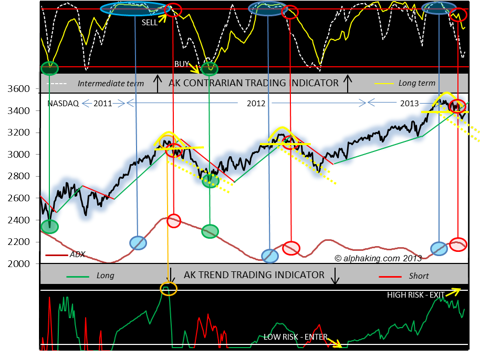 Disclosure: I am long PSQ.