I know many here invest in the yield side of the market in one form of another, so I thought I'd pass along my view of the very dangerous pattern that is unfolding in the high yield bond market, which is not only a good canary in the coal mine for all yield assets, HYG is also a good proxy for the stock market.
If you would like to track updates on the charts shown below sign up at alphaking.com, click on the verification email, and get FOUR months access to my on-line newsletter for free! This is a limited time offer that will not be repeated in 2013.
The first chart shows HYG falling from the peak in clear 5 wave impulsive pattern into #1. It then did the partial retracement in a 3 step manner into #2. Then it fell in 5 waves again into i (of what I believe is part of a larger third wave to be labeled #3 once complete.) Now it has retraced some of those losses in 3 step manner in ii. That sets us up for a third wave of a larger third wave, which is the crash wave. That targets 60, near the 2009 lows for HYG. Update continues below chart...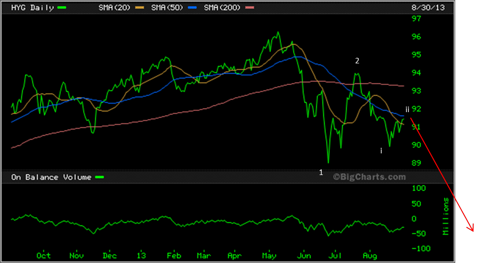 The next chart shows the very high correlation to the S&P500. Till recently they rallied together, with the last rally to new highs for the S&P500 landing while HYG was doing into topping thing, non-confirming the rally breakout for the S&P. That was a clear sign that this time was different, and thus no surprise the S&P500 soon slipped below its breakout level into the corrective mess we now see.
Worse, if HYG goes to a retest of the 09 lows - as the charts suggest - then the S&P500 would be expected to suffer a similar plunge.
I think the message is we have seen the peak of the central bank bubbles for this cycle, which sets us up for a major bear market, led by the yield sector, which saw a major portion of those central bank funds. Cash or short is the safety play this time around.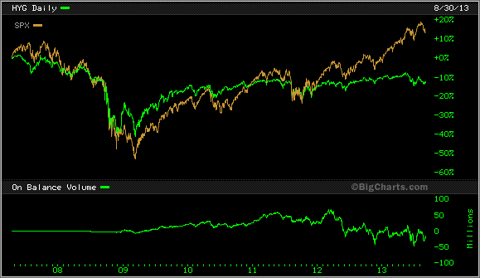 If you would like to track updates on those charts you can take a four month free trial to my alphaking newsletter. Simply sign up for the 30 day trial at alphaking.com, click on the verification email, and we will adjust to four months. I run four tracking portfolios - so lots of stocks to buy and sell! - as well as a 401K advisory for those looking to make and protect money in their retirement nest-egg.
Kevin
Disclosure: I am long PSQ.