The daily chart certainly does have the potential for a 3 step A-B-C run to fill the gap near S&P500 1685, though this intra-day view of the S&P500 over the past 10 day says not so fast.
Five waves down into #1, clear three step retracement into #2, labeled, A-B-C, with the final rally into the C position run on five waves, as it should, per the rules of Elliott Wave.
That view says we tank right here...
Resistance of 50 day moving average is 1660. Four day rally above 1660 that then fails would put us EXACTLY in the 1987 crash position. So either way, bulls look toast, with the prime question which of Elliott Wave 2s is the final bull trap, 1660 or 1685? Note price-wise there is not much difference between the two, and time-wise we're only talking a week.
If you would like to track updates on those charts you can take a four month free trial to my alphaking newsletter. Simply sign up for the 30 day trial at alphaking.com, click on the verification email, and we will adjust to four months. I run four tracking portfolios - so lots of stocks to buy and sell! - as well as a 401K advisory for those looking to make and protect money in their retirement nest-egg.
Kevin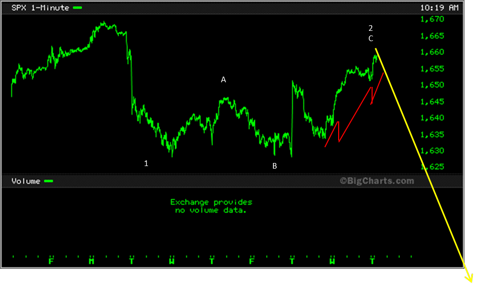 Disclosure: I am long PSQ.