The trend momentum power remains a very strong 80% bull.
The AK strategy is complex in its overall construction, though simple in its day to day execution, just as a car engine is made up of many moving parts that are critical to the operation though the user simply turns a key to make the engine do its thing.
Trading the AK strategy here, whether it be via the simple 401K approach, or the more complex and more aggressive Index that is hedged, simply calls to follow the trend with both, with the latter hedging with a small TZA position when the hedging indicator is in sell mode, and TNA when in buy mode.
The hedge is designed to help smooth the turns of the overall strategy, as well as providing some additional profits on its own.
Tonight I'm adding another smoothing approach, this one designed to smooth the turns of the TNA/TNA hedging side of the portfolio using the short term indicators I usually show each Wednesday.
If you recall from the performance review newsletter I published to start 2014, entering a trade when at least one indicator from both the upper and lower black boxes in the chart below trigger new signals, and exiting that trade and moving to cash when one indicator from either triggering a signal in the opposite direction, returned 33.6% trading the S&P500 without leverage last year.
What interests me with that, is such signals to move to cash came ahead of turns in the hedging indicator, which should be very useful to us trading TNA and TZA based on the hedging indicator.
Thus tonight I'm selling all TNA in all portfolios based on the recent sell from the upper contrarian indicators highlighted by the yellow circle and arrow. That is, following the rules highlighted above, closing the long trade triggered when the blue arrow and green circles said to buy - smack ahead of the positive turn of the hedging indicator to start the latest rally phase.
My goal remains finding through research the optimal way to make the most return with the least volatility, and the above adjustment is designed to help in that regards. The overall trend following approach has not changed since 2004 and has done very well since. The more complex Index strategy has not changed since mid-2012, and would have returned 62.5% last year.
If you would like to track updates on the chart shown below sign up at alphaking.com, click on the verification email, and get THREE months access to my on-line newsletter for free!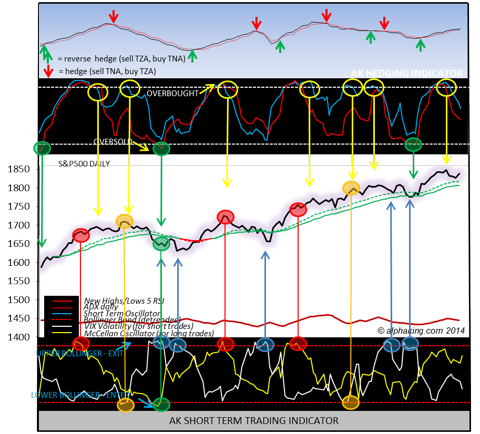 Disclosure: I am long SSO.