The S&P500 has moved into a very dangerous position of its prior breakout level, highlighted by the dotted red line in the chart below.
An air pocket resides below that level, and very hard selling is likely to appear in a hurry if that level is breached in earnest, which is likely due to the stance of the short term indicators.
Note how calm the VIX is behaving as the S&P500 challenges that critically important level (white line near bottom of chart)?
Bottoms are made when the VIX spikes come in pairs, highlighted by the twin blue arrows and circles, with the second triggering the actual buy.
A couple of weeks ago we got the first cross of the VIX above the Bollinger Band (detrended in the chart below the dotted red line,) and the pullback as stocks tried to recover landed on cue. Also, right on cue, most stock indexes are making lower lows than we saw on the first VIX spike (dotted blue arrow and circle.)
This time around, the VIX is remaining very calm, and showing little sign so far that it wants to explode across the BB.
That is a big problem for the bulls has bottoms are made in fear, which the set-up below says has still to come. That says the S&P500 is likely to land into that air pocket beneath the prior breakout level, setting up a potential hard and fast plunge has traders react to the breakdown from the failed breakout.
I plan to add more long exposure on the expected plunge once these indicators show it is safe to do so - so long as the trend remains up by the time the all clear is issued - though till that second VIX spike comes my QQQ long position remains hedged with TZA and getting ready to flip and trade short if the plunge into the air pocket is deep enough to trigger a change in trend.
If you would like to track updates on the chart shown below sign up at alphaking.com, click on the verification email, and get THREE months free access to my on-line newsletter.
-Kevin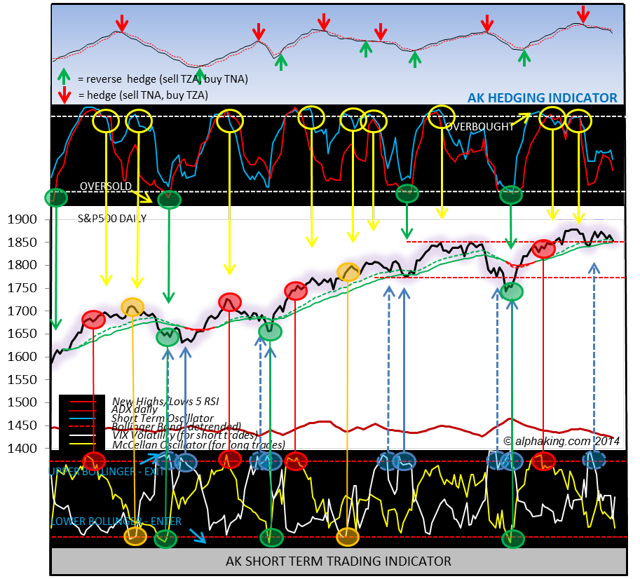 Disclosure: I am long QQQ, TZA.