The trend momentum power rating remains a reasonably strong 60% BEAR.
No major changes in allocation is expected this week, with the current allocation on the short side via inverse ETFs, and enhanced with TZA for the hedging side of the portfolio since the hedging indicator is also negative..
The S&P500 (not shown) closed smack above the 50 day moving average yesterday, and any downside follow-through that breaches that key technical level going forward likely opens the selling floodgates for real. Any bounce from this position is likely to be weak, and simply stalling the inevitable.
The contrarian indicators (near top of chart below) have not crossed the oversold extreme line for nearly two years now, which is an impossibly long time without such an intermediate term correction, thus the odds are super high that we will see lower prices this time as the technical landscape regresses to the mean and normalizes.
As mentioned in the Friday update, the key to whether the correction leads to new highs to come, or a crash to start the next Great Bear, depends on the direction of the weekly ADX (maroon line in chart below) by the time the stock market reaches the oversold extreme.
A rising ADX would indicate strong downside momentum that would open the door to a crash as the bulls try to sell at the same time, while a falling ADX would indicate weak downside momentum that would likely lead to a rally to new highs once the correction completes.
The dotted red line highlights the level the NASDAQ would have to fall to confirm the bull top is in to start the next Great Bear phase.
Since the bull/bear cycle line (not shown) continues to trend down after a three year advance, odds are super high that the bears will win this one to put an end to all bull hope. That said, the latter will remain while the NASDAQ remains above the dotted red line shown in the chart below.
The red ink should mount up fast when the S&P500 breaks below the 1850 level, which it is likely to do in a hurry once the test of the 50 day moving average fails. When the trends turns positive I will become more bullish and hopeful. Till then, the bear case should be respected and a crash planned for.
If you would like to track updates on the chart shown below sign up at alphaking.com, click on the verification email, and get THREE months free access to my on-line newsletter.
-Kevin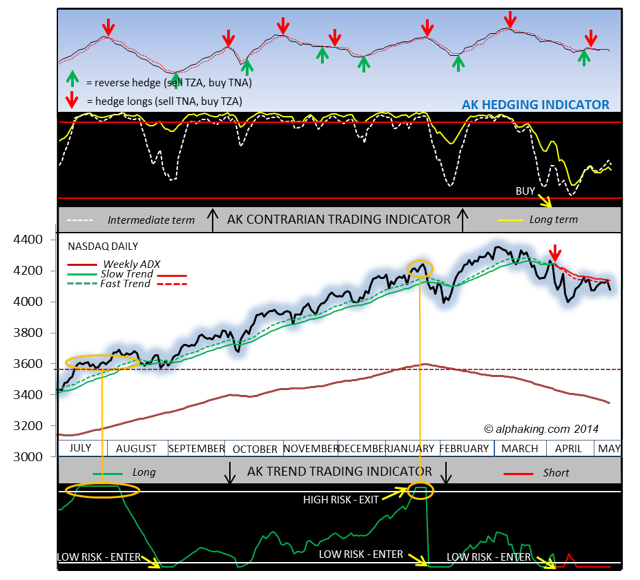 Disclosure: I am long QID, TZA.