First of, I'm a beginning investor, please take this article with a bit of salt or an entire mountain of salt. Your choice right? Something not right? please say what I did wrong and what I can improve.
What is this company all about?
Orient paper, Inc(ONP), is a company that manufactures all different kinds of paper. It was incorporated on December 9th in Nevada with the name Carlateral, inc. Trough mergers, expansion and management this company is growing and growing. How ever, the shares kept in pace with the company sometimes over-valuing, under-valuing or fair-valuing. Now it's different, it's extremely undervalued in my opinion.
The company makes several paper products. Those products are: Digital photo paper, Offset printing paper and corrugating medium paper(NYSE:CMP). There is going to be different products in the future which the company calls "Specialty paper" and Tissue paper. What Specialty paper is, I have yet to figure it out.
Each product has a specific manufacturing line(s). There are currently 6 lines in existence, one of those six is being modernized, the others are in business. This modernization is done due to fear that of governmental shut down.
Manufacturing lines explained
The company has dedicated manufacturing line(s) for a specific product(s). For example PM6 is used to produce CMP. Others are used for other products(duh).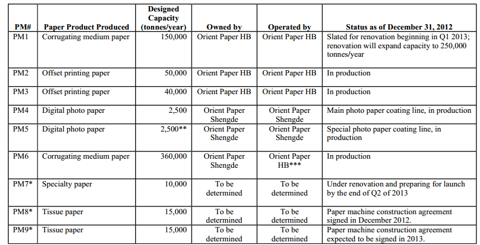 The image is directly taken from the newest k-10
PM1 & PM6
Like stated earlier PM1 is down for modernization and undergoing upgrades to increase the potential output. Out put for PM1 first was 150,00 and is going to rise to 250,000 tonnes/year. Modernization started it Q1, 2013. This is what management had to say about it "We have decided to take voluntary action to renovate our 150,000 tonnes/year corrugating medium PM1 in anticipation of increased regulatory concerns on energy efficiencies." In other words, could be negatively impacted by the government. How ever this government also helps this company, I'll explain that later. PM6 is in full production mode and it can create a max of 360,000 tonne/year.
PM2 & PM3 production lines can create combines a max of 2500 tonnes a year. These lines create Offset printing paper. This is used in offset printing, for example a magazine, newspaper, etc etc etc.
PM4 & PM5 are used for the creation of digital photo paper, this paper is used both by consumers as in commercial things.
PM7 is used to produce "Specialty paper", currently is operating although not that efficient. Orient is still cramping up production utilization.
PM8 & PM9 are still in negotiation phase, IE still buying machines and what not. These lines at type of writing will produce tissue paper.
Is it steady?
Before I dive in the fundamentals of this company, remember I am a beginner who is still learning. See a error or thin I should have done it differently? Please explain in the comments! Finally! Time for some mathematical calculations nobody understands!
The balance sheet, is this company reliable, is it consistent, does it earn a buck or two, what about debt!? Book value and god knows what. Well Let's get crunching some numbers.
Firstly my method of investing is based upon Christopher H Browne's way. He had an old skool way closely related to Benjamin Graham, first I wanted to figure out Book value. Since I absolutely hate accounting with it's intangible assets, I adjusted the current assets to dump anything that's already been payed for, intangible and god knows what. Liabilities are 1on1 copy pasted from the 10-K's

Then we are going to do the same for total assets and liabilities:

As you people can see total assets and liabilities are climbing like crazy in 2013, why? They started production of PM7 and took on a bit of debt for construction of PM8-9 and modernization of PM1.
To be sure, can The orient pay for their current liabilities and long term liabilities? Taken a look into the picture below it's yes and no! Long term, yes, short term no.....

O right note to my self we are going to need a big big margin of safety......
Since it's long term okay, what about growth, Fist I need EBIT to calculate EBITDA and after that the diluted shares to come at EBITDA/Diluted shares. Oh and book value!

Looks good in my opinion, long term prospects look good and wow! Just the tangible assets/book value are worth a currently 7 bucks a share. Which means grossly calculated a margin of safety of 150 percent! With almost no down side. This is because management is pro-shareholder. Why? 28% of the shares is owned by insiders aka management, some of which are bought on the open market!
Now management is also good. I counted the promises they made and counted the fulfilled promises which are 10/9. Not bad. How ever what I really don't understand is that they pay a token dividend, share buybacks are much better in this particular scenario.
I am long this one with 20 shares, better said 100% o my portfolio.
Disclosure: I am long ONP.
Additional disclosure: Like stated in the article I am long this company with 20 shares which is 100% of my portfolio. Saving up for other companies