Yesterday began with a congruency of direction between the Oil & Equity futures; both heading in the same direction, somewhat anomalistic of late.  Needless to say it didn't last long as the pop-open rapidly became a drop as ALL the 4 Sisters headed south in retreat toward their support levels and 50-DMAs.  As Oil continues to drive this wickedly vicious equity tape, we must keep our attention on the Broadening Wedge formation now prevalent in all sisters. 

                                      SPX Hourly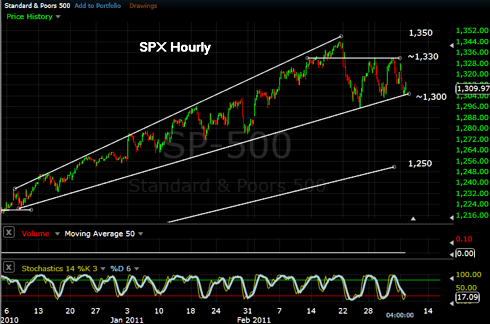 Realizing this is beginning to sound like a broken record, I must implore you to pay close attention as the resolution of this formation will most certainly dictate the following month's (or two) technical action.  Last week we discussed a potential resistance level on Oil around $110 (stemming back from 10/08).  The point… a $110 resistance in Oil is the last foothold the equity markets may have to hold the bottom side of this pattern.

Good Luck & Keep Your Wits About You!

KAT