Mid-day yesterday we posted 2 Pedagogics pointing out the potential break of the NDX's Intermediate trend (broadening wedge, 50-DMA & neckline convergence). The 2nd posting depicted an IT-trend break of a secondary index (the SMH). This secondary index break increases the potential of the NDX break, which in-turn, could lead to ALL the 4 sisters running into trouble in the near term.
After technically evaluating the SMH I found greater resistance stemming from much further back; 9-years to be precise. 
SMH Weekly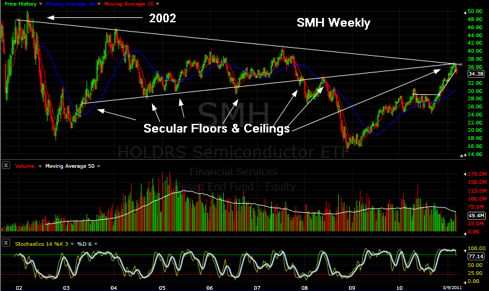 (SMH Weekly chart) Here you can plainly see the Secular – 5 years plus – resistance (coinciding with the secular Floors & Ceilings) it has just succumb too. 
SMH Daily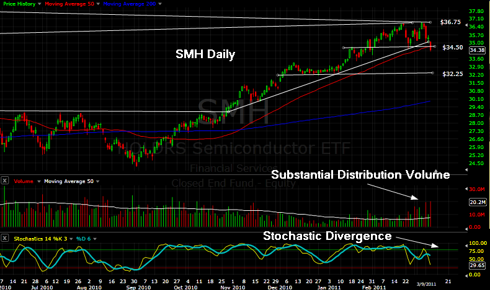 Looking at the SMH daily chart, it has technically built a Stochastic Divergent Double Top with a confirmation of a neckline break at $34.50 with substantially increased volume.
If the increasing technical evidence proves to be trustworthy investors need to be prepared for the broader equity markets to follow suit.
NDX Daily