After a week of lacking any semblance of technical resolve it has finally come to pass. For now, the bears have won the battle and officially drawn definitive lines in the sand (1,340 for the
SPX
& 2,360 for the
NDX
). This, for many, is good news. Resolve provides ST portfolio direction, positioning and hedging strategies. Prior to this determination it was difficult to hold positions other than market neutral during uncertainty. Now defined, managers can weigh, protect and position accordingly – such as the action yesterday diagramed.
This morning's JPM earnings will most certainly test this newly formed resolve as the financials are pushing higher, but as long as it holds the next probable technical levels to be tested are lower. Even so, based on the amount of cash still remaining in money markets, the
4-Sisters
are more likely to bobble their way south, versus the straight short north route the bulls took the last week of Q1. The
SPX
is a perfect example. Yesterday it found support at the close directly on its 50-DMA. This, depending on how concerned other investors become of another downturn, could provide a 1 or 2 day bounce before attempting the next upward sloping trend just below (~1,280). 
As for the
NDX
, it's already pierced its 50-DMA. It did however find some short-term support around 2,300. Once this level is tackled we would be looking toward the next upward sloping parallel trend or the horizontal just below (~2,200). Either way you look at it, there are a plethora of opportunities if you take the time to search, be patient and attack. Patients will be rewarded in this volatile environment.
NDX Daily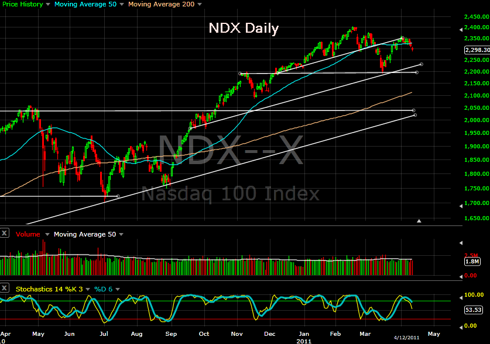 Good Luck and have a Great Day.
KAT