'Another day of
earnings
driven volatility for the books', said most yesterday while attempting to determine whether they should weight more long, more short or remain neutral. Today some may be wishing they did something different (more long perhaps). The markets, vacillating between bullish and bearish on any given earnings-season-day, are beginning to build an intermediate-term channel which will eventually turn into the determining point for the second half of the year.

SPX Daily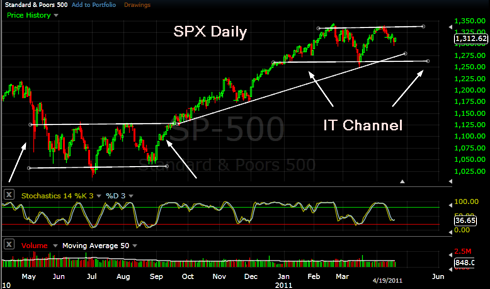 When stock volatility (standard deviation) remains high (not to be confused with CBOE option – implied volatility –
VIX
), it's typical to see a reduction in volume due to a lack of institutional conviction. Institutions – averaging tens of billions per portfolio, not 100's of millions – can't afford to be 100% directionally committed until clarity appears; due to their sheer size and time constraint of allocation shifting. These intermediate channels, not unlike the one from May – September of 2010, give the market time to take pause, build strength (in either direction) and catch many inexperienced traders off guard.  
The inexperienced will have the tendency to overtrade which creates a constant second-guessing of proper positioning and allocation. These are the times where less is more and giving your portfolio more room to maneuver is a sanity necessity.
 
20-Years of experience – learn from my happenstances without having to live through your own.
 
I hope this helps.
 
KAT