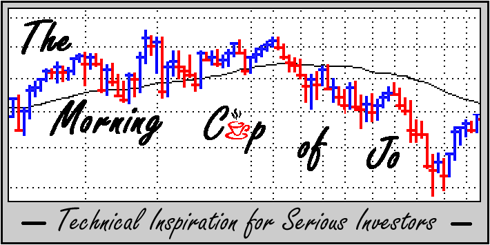 Swing batter batter swing! In Monday's 'Cup of Jo' we stated
"the notorious and seemingly missing volatility certainly has returned to the equity markets…"
we weren't tilting at windmills. This environment makes is great for intraday traders and volatility scalpers but difficult for the position, momentum or swing trader. Hence, we'd better focus on the intraday charts for today. 
The
SPX
has yet to technically do anything wrong, in reference to the late April
breakout
(1,335 – 1,340). With equity volatility increasing of late it doesn't seem far-stretched to opine the potential of a 1,310 gap-fill which will correspond to the recently tested intermediate-term trend. 
The
NDX
is a little trickier, or should I dare say – bearish. As we've discussed, it's yet to truly break topside into new territory. Now it's being held by an interim channel within – resembling an Andrew's Pitchfork (purple). If the center post is to give way it's almost a certainty (almost being the key word) a gap-fill at 2,300 is nearly unavoidable.  
Uncertainty – demonstrated in equity volatility –again reigns as the end of earnings season is upon us and banter about the quickly approaching infamous end to QE2 increases
.
 The shorter-term technical will assuredly lead us to the longer-term plays but until we receive confirmation from all players (
sisters
)… not to reiterate but… investor confidence will wavier. 
There is no place for heroes in times like this. As example, since mid-February our portfolios have vacillated between market-neutral and slightly short. When the consolidation is "completely" resolved – there will be plenty of time to grab appropriately measured gains. 
 
As I've said for 20-years, "I'd rather be Late and Right, than Early and Wrong!"… but that's just me.
 
KAT