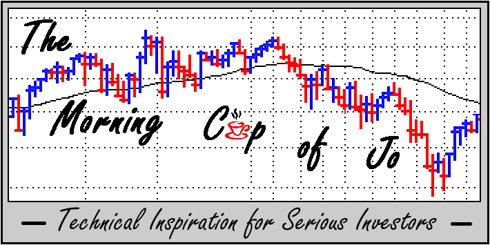 Another marvelous Monday with no certainty of direction; wearisome is the adjective which comes to mind as I pen this piece.  Since Feb. 22
nd
(my son's birthday and 59 trading days ago) the market, albeit somewhat volatile, has remained in an approximate 10% consolidation range which has yet to resolve. This action is where the rubber meets the road and sets the true professionals apart from the inexperienced.    
Imagine a hunt with nothing but time to plan. Most (the masses) will waste their time thinking they have plenty of the elusive commodity to figure out what to do whence the situation is resolved. Others, experienced with the process, spend their time evaluating their surroundings, rechecking their equipment and never losing sight of their intended target. I'm not sure where the adage "Patience is a virtue" came from, but must have been someone with a constant, daunting and challenging profession.
 
The
NDX
, as it currently stands, give us the most prominent directional influence (current surroundings) hence, today's focus. Last Thursday we discussed the intraday Andrew's Pitchfork which still remains intact and yet to be broken down through the center tine to fill the gap from late April. With its inability to break topside after 5 separate attempts, the probability lies with filling said gap.  
On a bit larger scale, Daily Chart, you can see the gap fill corresponds to the bottom side of a longer-term channel and its 50-DMA. This is where, if the bulls are going to make any attempt to have any inclining of a summer rally, has to make a stand. If this approx. 2,300 level is pierced, the bears will regain control.
 
Remember – never get distracted or sidetracked and always remain focused – ya never know when Moby will hit.  
 
KAT