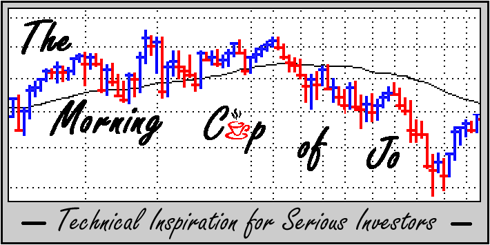 On April 26
th
the
SPX
broke topside of resistance and shot straight up to 1,370 bring it back to the '08 Summer (June) levels right before the onset of the Q3 Financial Disastrous collapse. With the current non-camaraderie of its tech biased sister the SPX has only been able to build a consolatory channel at best; where she lay since. Some are calling it "The Summer Doldrums" and some say it's the beginning of the end of the latest cyclical bull run – (27-months and counting) since the '09 bottom.  
We, for all intent and purpose (and not to take the easy way out) believe it is too early to tell – technically. 1,300 on the south side is our tell-tail number for a deeper correction. As for a move north – we'll be looking at a break (close) of the topside of this channel (~1,335 – which is a moving target considering the slope). This, however, will take more than just a channel break, it will require the techs to play nice and come along for the ride.


The issue with those 100 equities coming along for the ride is what we would consider a "Technical Spider Web" which would even make Tobey Maguire concerned. As you can plainly see the chart above also depicts a downward sloping channel over the last month. The difference lies with all the breaks and resistance points which lie above. Not only has this index broken the Intermediate trend since the October
breakout
, it has a considerable rats nest of resistance points above – shorter-term.    Don't forget, short and intermediate are not its only downfall, the long-term (weekly chart) we exemplified in our May 25
th
Morning Cup of Jo.
Stalk your pray and don't shoot until you see the whites of their eyes.
 
Have a GREAT Day!!
 
TAM-KAT