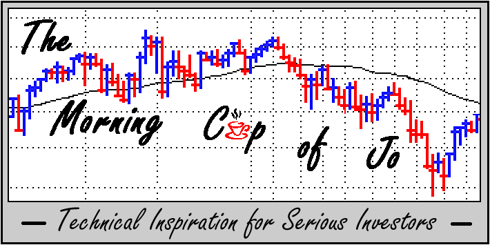 On Friday afternoon
TAM's WIR
echoed the "Talk of the Town" as all the pundits clamored on how the
SPX
has just completed 6 down weeks in a row; which is the first since 2002. This statistic is amazing considering the largest bear market in history (since the Great Depression) was in 2008. Interestingly enough the markets haven't really seen any kind sort of devastation as of yet. On that note, the extremely bearish weekly Double Tops have brought the markets back to their beginning of the year levels.
NDX Weekly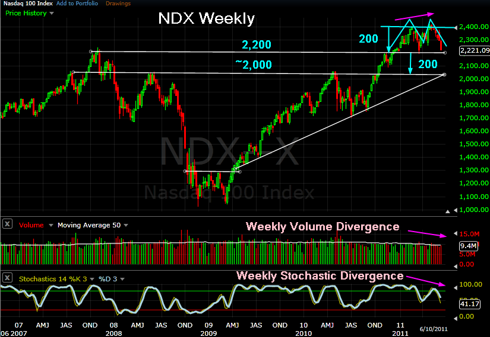 With the patterns in place and both containing
Stochastic
& Volume
Divergences
, the likelihood is that necklines will be broken at some point this summer. If/when this happens we've technically determined the most likely support, based on measured moves and prior converging trend lines. 
Given the velocity of this downturn it is difficult to determine if there will be a meaningful bounce off the necklines. It was not more than two weeks ago the SPX was pushing 1,350 and the
NDX
pushing 2,400. As of Friday's close all
Four Sisters
are within spitting distance of their respective 200-DMA's (corresponding to their necklines).
200-DMA vs Friday's Close
SPX        1,253   vs. 1,271              1.4%
NDX        2,215   vs. 2,221              0.2%
DJIA       11,687  vs. 11,951            2.2%
RUS        768      vs.  779                1.4%
If the sisters do in fact show some resilience at these levels, it will present an opportunity for traders to play the bounce with limited risk, allow investors to reposition with a greater short weighting or simple hedge further. Whichever the case; break now, don't break now; keep your wits about you, always start the day with a plan and be decisive when making a decision.
"Education Breeds Confidence, Confidence Breeds Conviction and Conviction is the most essential ingredient to Success."
                                                      – Kevin A. Tuttle
TAM-KAT