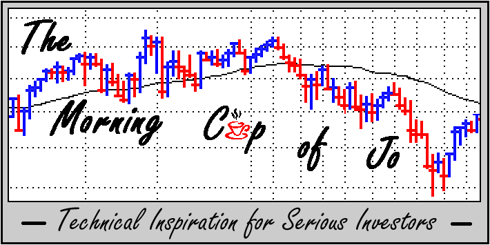 "The most fatal illusion is the settled point of view. Life is growth and motion; a fixed point of view kills anybody who has one."
– Brooks Atkinson 
Good Morning and Buckle up, it's gonna be a bumpy ride today. As I pen this, Sunday evening, the futures just opened (6PM EST), after a 48 hour stint of "Who's Fault is it?", and we're looking at Friday's lows (1,167). In our July 15
th
Week in Review
and again in our July 18
th
Morning Cup of Jo
we uttered the words…
"The Longer the confusion (technical ambiguity – referring to the 2011 Channel of indecision), the greater the resolve. Be prepared, remember Moby." 


As this last week's move rings this statement more true than anticipated, it is now time to decide further action. One thing is for certain – the channel has been resolved (master of the obvious). As the acceleration and range of these precipitous drops become greater the tendency is to catch the falling knife in attempt to capture quick gains. Depending on traders/investors experience, style and goals it can be a profitable situation. For the position or longer-term investors I'll leave you with this adage passed around our floor every day, "I'd rather be late and right than early and wrong." 
 
After 20-years of money management, based mainly on technicals, one constant remains true – "The Market has the ability to continually astonish when emotions control the tape." That said here's our best guess of the upcoming day. For this I turn to the
June 13th MCoJ
where we discussed a measured move on both the
NDX
&
SPX
with the weekly charts.
   Today we show the same measured move but on the daily charts.


SPX Daily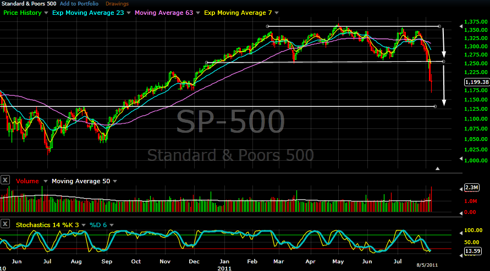 This move would bring, not only bring the Fundamental Bulls out of their proverbial pen and produce massive salivation pools on the swing traders' desks, it also represents decent technical levels for a confluence of buyers. As we enter the day remember this, if they do begin buying, with massive volume, the shorts will begin to remove trades and buying will beget buying. However, it is our opinion this will only be a short-term (yet potential decent %) move.
 
Put your tray tables up and make sure your seatbelts are fastened the pilot says there is further turbulence ahead.
 
Until next time – good luck and keep your wits about you…
TAM-KAT