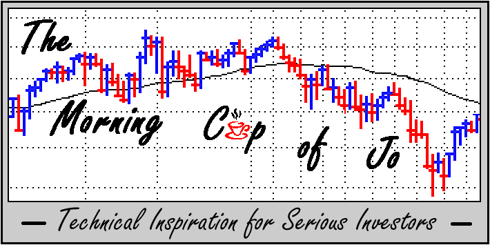 "Modern man must descend the spiral of his own absurdity to the lowest point; only then can he look beyond it. It is obviously impossible to get around it, jump over it, or simply avoid it."
– Vaclav Havel 
With the largest 4 week plunge (17%) since 1950 the markets have become parabolic and laden with investment fear (emotion).   As they say… 'Selling begets Selling'; which is another factor causing this nose-dive and propagation of losses. Otherwise stated, margin calls from funds (Hedge or otherwise) who have taken on too much risk compared to their liquidity (ability to exit positions in an orderly fashion).   This is the Money Management Industry's largest absurdity –Straight-Line-Thinking.   Time and time again this is proof positive that our industry is fraught with firms and managers more concerned about competition of return and give no regard to potential/probable risk to the investors. 
 
Imagine a shift in paradigm, an industry where money managers were rewarded not on profits alone, but on the merits of their actions – the ability to side step such risk exposure and potential selling stampedes. This would alleviate not only excess use of margin, but would put the client first. Novel though, huh?
 
Regardless of the selloff reasons, and my apparent snide comments in regard to Funds who tout themselves as "Risk Monitors" and lose over 35% in less than a year, the most relevant questions are; where could it go, when will it stop and do I buy this move?  The first two are somewhat straight forward with a little analysis, however the last depends on a multitude of factors – primarily ones risk tolerance based on the prior two evaluations. 
 
Where & When? Looking the
SPX
daily chart we evaluate the first – Where? This is where Benny Goodman would be right at home – Big Bands. As witnessed over the last week, the technical support and resistance levels have expanded quite dramatically. The daily chart points out the potentials – from top to bottom… 1,210 (Wednesday's high), 1,120 (Friday's close) to a further potential drop to 1,040.
SPX Daily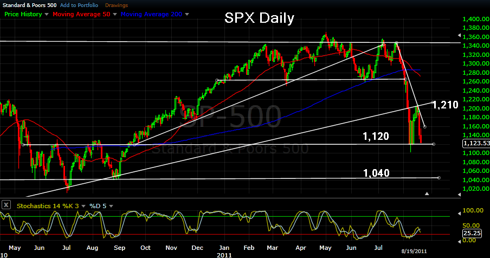 Given the massive increase in emotional trading and exacerbation of margin calls it's anyone's guess to if a break of 1,120 will occur this week. Hence all eyes will be on the Jackson Hole, Wyoming Fed meeting on Friday (QE3?).   Now to the more important question of whether or not an investor should buy this dip.
 
Ask yourself a few simple questions. What if I do buy and it does break these levels? Do I have a place in which I'm willing to stop out? Investing is not just about analyzing return; it's about analyzing the amount you are willing risk in regard to a potential return. Otherwise stated, what is your exit strategy and where is your stop loss if things get worse? Remember, there is NO ROOM in investing for wishy-washy answers so if you can't answer the questions then wait until further clarity arises and re-ask.
 
 I hope this helps… Until Next Time
 
TAM-KAT