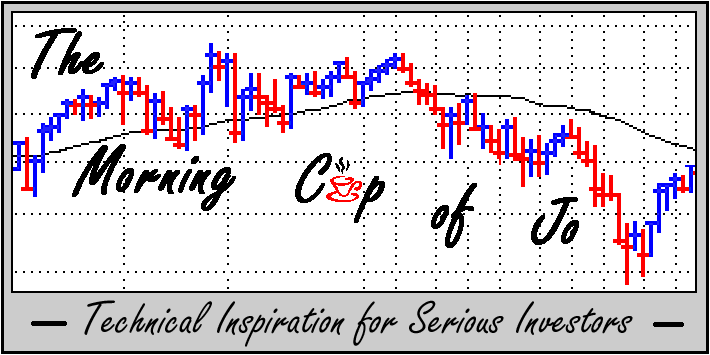 'No quote today, just a quick shout-out because it's a very special day. Today is one of TAM's team members Birthday - Terris Anne Packer. We won't disclose age, but let us just say… "We hope now she can finally stop being carded at Disney's kiddy rides." Have a grand day and know your team values you, appreciates you and is grateful you're a key player. Happy Birthday Terris!' - TAM Team
The talk of the town last week, by most TV Pundits, was the DJIA potentially reaching a new high since late 2008 (before the financial debacle). For all intents and purposes this is actually not technically trivial (double negative?). With all four sisters approaching 2011's high (upslope resistance as for the NDX - last week's MCoJ), investors must be aware of an increase in probability of a correction, considering a 10% plus move since the November lows. Adding this to another full week of earnings; a sharper eye this week would only be prudent.
Understanding this potential, where is the warning sign? Let's take a gander…
Since the break above the bear-trend resistance (late December), the SPX has been following a very steep short-term uptrend. However, on Thursday it produced its first sign of weakness; a shooting-star (Gap higher reversal day at an intermediate-term resistance point). Still, one ingredient does not make a cake. The short-term trend is the key. In this case, the SPX continues to trade above it. If and when broke, and depending on your portfolio tolerance, is where the first correction is likely to occur. As for tolerance question, we also placed the most likely retracement point (~1,260, the 200-DMA). This also happens to be a 38.2% Fibonacci retracement from the November lows.
If we were to give one word of advice at this juncture it would be this…
"Don't anticipate the move. Wait for the market to tell you which direction it will go and act accordingly." As we always say… 'It's better to be late and right, than early and wrong.'
On a side note: Mid-week there will be a "Special" announcement which will be of great interest to all our stakeholders - please watch for this Wednesday's e-mail notification.
We hope this helped…
TAM-KAT