"The great end of education is to discipline the mind, rather than furnish it; to train it to use its own powers, rather than fill it will the accumulation of others."
- Tyron Edwards
"Jabber-Jawing" - Two weeks ago the discussion was the DJIA's new high potential. Last week it was the "Golden-Cross." What's this week's theme gonna be - the new Bull Market or market overbought? Before entertaining either of these ideas, let's recap some of our recent missives.
MCoJ Jan 2012 Recap:
2011 closed even and remains below Bear Trend.
Tape psychology at the beginning of the year (first moves) can be tricky.
If Bulls take control, our technical stance will immediately shift….
If so, expect a rally toward 1,350 - the top of 2011's Channel of Indecision.
More stocks showing technical strength but SPX still showing weekly Converging Resistance at 1,350.
The 1,350 level - top of 2011's Channel of Indecision - will be the true test of what's in store for 2012.
And here we are - 1,344. Now what? Well, there are only three choices. Increase longs and gain greater exposure, less long and diminishing exposure or… hold tight until further information arises?
Before making such decisions - ascertaining one's portfolio weighting and determining allocation shifts - investors should employ three simple tasks. First, determine which area they inhabit (short-term, intermediate-term or long-term). Secondly, investors should NEVER, anticipate; only evaluate. Otherwise stated, assess the probability of what the market will most likely do, based on a compilation of evidence available, and wait for it to complete before taking action. And thirdly, be decisive - when you've determined what plan of action to take, don't second-guess when the time arrives.
Example of how this may transpire for a shorter-term (Momentum or Swing) investor.
As the SPX is coming up to resistance at 1,350, awareness is heightened for potential correction. Overbought indicators are reading highs and potential divergences. The index distance from its moving averages is nearing smaller parabolic levels. And lastly, volume is not currently indicating strength. However, and most importantly, the short-term (momentum/swing) trend has yet to be broken.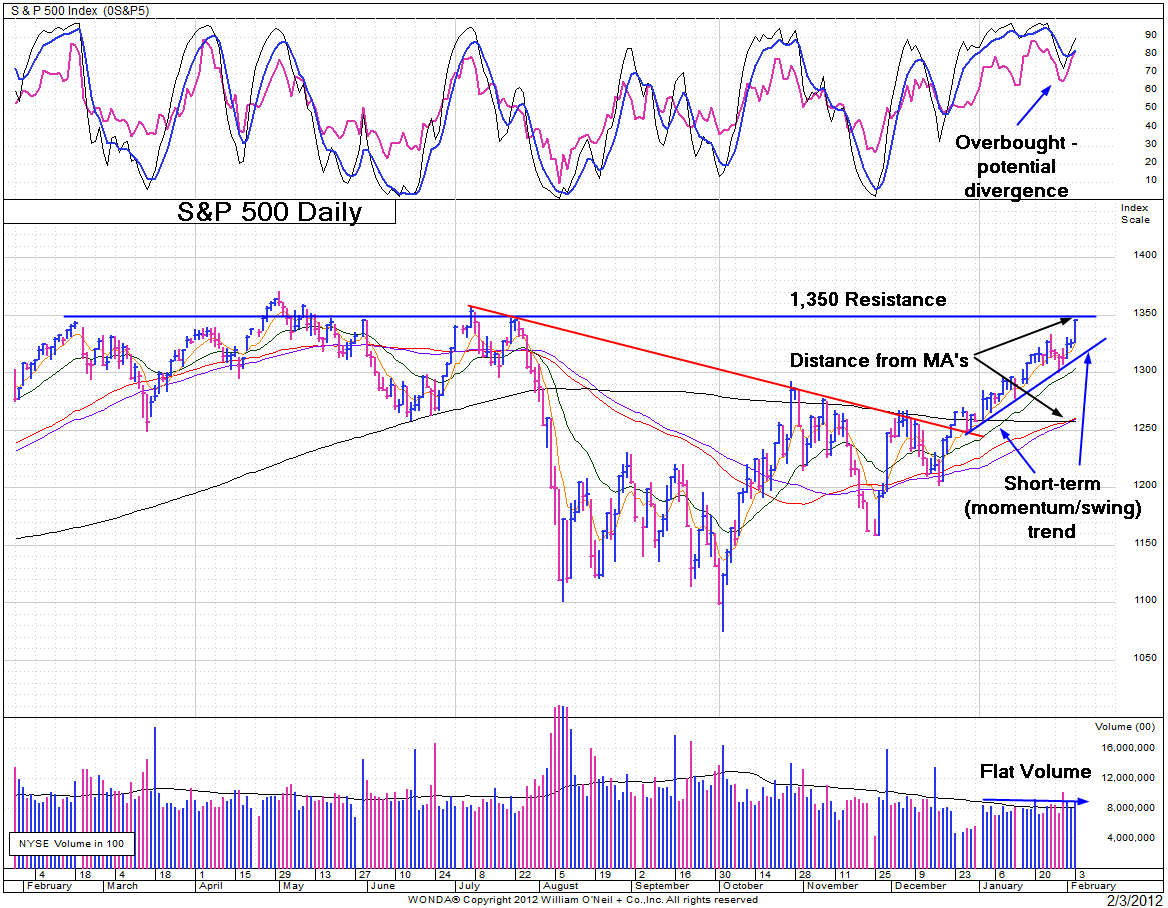 So… what to do? By using the aforementioned three simple rules … ascertain probability of break (done above), decide what shift (stance) to take if occurs, and be decisive when it happens. Otherwise, status quo - the trend is your friend. As simple as this sounds, you would be amazed the number of investors (professional and individual alike) who get caught up in the emotion and make decisions based on anticipation of a potential happening which never occurs. Emotion is the investor's worst enemy. If you cannot learn to control it - find someone who can.
As our team constantly discusses… self-awareness (relinquishing of pride), is not only the hardest attribute to accomplish as a professional portfolio manager, it is the most important. It's easy to blame everything else on why things transpired the way they did. Wall Street is full of those. To separate from such you have to know the… "Man in the Mirror."
We Hope this Helps
TAM-KAT