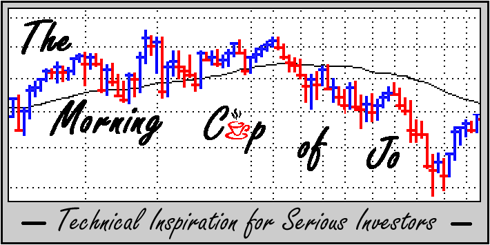 After the 2008 debt crisis it appears confidence is beginning to be restored, albeit with a healthy and warranted dose of skepticism. As the 1Q of 2012 draws to a close we want to provide some awareness of the current risk levels and what is on the technical horizon. To be awake is to be fully conscious of something you are doing, and at these levels full attention should be given to the amount of risk on the table.
We start with a weekly chart of the SPX and identify the current cyclical (1-4 yrs.) bull trend (blue diagonal) that began in 2009. From current levels prices could drop approximately 12 - 14% and the market would still be in a cyclical bull trend. Also note on the weekly chart the high - 1575 is approximately 12% away from current prices. This view puts a lot into perspective as we are reminded about the work left to get out of the current secular channel (1999-Current). It offers a dose of reality among the exuberance and recency that so many investors get caught up in and brings awareness to the long term thinking necessary to sail a ship in these waters.
S&P 500 (SPX) Daily Chart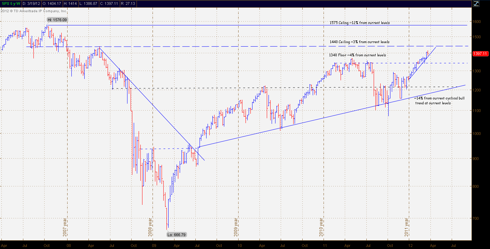 The Daily chart of the SPX helps us become aware of the near term risk associated with the current price levels. The secondary (3 mo. - 1 yr.) bull trend (pink line) serves as the initial shot across the bow for the bulls with the short term floor of 1340 (approx. 4%) heeding caution. The immediate term ceiling, or resistance point for the bulls and a probably place for resting (consolidation) before another move to 1575, is 1440 - approximately 3% from current levels.
While the current bull market continues to climb the wall of worry we remind you to watch for volatility as tops and bottoms are customarily accompanied with it. The recent bottom of 2011 was one of the most volatile periods for an extended amount of time in the last 100-years in the market as seen in the chart above.
Whether you are just setting sail or have been navigating the waters for some time remember you can't change the direction of the wind but you can adjust your sails to reach your destination safely. Have a great week and thanks for reading.
The term "Awareness" means consciousness devoid of ignorance and dualistic fixation. It is the state of knowingness or wakefulness. It means to be "cognizant, conscious, awake, alert, watchful, and vigilant", adjectives that mean being mindful or heedful of something. Awareness implies knowledge gained through one's perceptions, and the attitudes of others. Ignorance and obliviousness are the opposites of awareness. To be awake is to be fully conscious of something that you are doing.