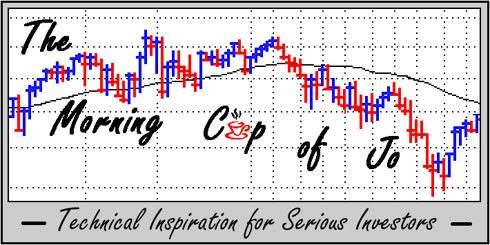 "Maturity, one discovers, has everything to do with the acceptance of not knowing"
- Mark Z. Danielewski
Good to be home! As most of our readers know, we spent the last week in NYC traveling around visiting clients, potential clients and speaking at the MTA (Market Technician Association) Symposium on our 100-Year Market Theory. What a great experience having so many technicians in one place. It was truly an honor. But again, after traveling around what seemed to be, all of Midtown and Downtown via subway and taxis, it's good to be home.
Needless to say, the common talk was a deliberation about the next leg in the markets. Another common question kept arising as well; "Will Apple Inc. (AAPL:NASDAQ) be the downfall of the NDX and start something much larger?" Many even debated whether or not to buy it; which seemed surprising considering its technical position (50% above its last technical breakout). For us, when evaluating the bigger picture, it doesn't really matter other than short-term trading. Hence, irrespective of the AAPL hype, we turn our sights today to the SPX.
Since the break back below 1,400 on the S&P 500, two weeks ago, the market has regained some volatility akin to last October and November. But, considering the SPX is only 3% off the April 1st high, we'd hardly call it something to worry about - for now. The tape is however reminiscent of the song by Steelers Wheel, "Stuck in the Middle with You?"…. "Clowns to the left of me, jokers to the right, here I am, stuck in the middle with you." The only question remaining is… "Who are the clowns and who are the jokers?" Since investors want to be neither of these, it is crucial to analyze the levels and chart a course of action to prepare for all the possible "what-if's" which may occur.
Over the past few weeks, since breaking the topside of the '2011 channel of Indecision' on March 13 at SPX 1370, four key technical levels have come to the forefront (1340, 1370, 1420, and 1560). As for now we must take into consideration how far the first true correction of 2012 will be. We believe, based on the current technical condition, it is not likely to be very deep and based on probabilities of momentum, volume and technical pattern; the next likely support is a small floors and ceilings at 1,340. This would provide a decent 6% correction from the April 1st high. If this occurs without the slope of the 50 DMA turning negative, it will be a healthy move and our target of 1,550 to 1,560 will remain in force.
SPX Daily Chart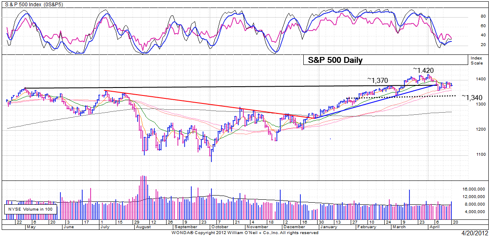 However, if 1340 is broken and the SPX heads into a deeper consolidation - say the 200 DMA at 1,275 - it would require a larger technical pattern to still determine if 1,550 remains target. Since we don't predict; our conclusions and search for clarity can only be based on evidence. Another such piece of evidence is the high price action and money flow into defensive sectors like Consumer Staples, Packaged Foods, and Big Pharma and out of high-beta names previously mentioned.
For now it's earnings, politics and again revisited - the PIIGS Debt, which will continue drive the tape. With the increase back into volatility, due to earnings, the risk appetite may shift on a moment's notice. As such we won't pretend this is the new norm, but rather recognize that it only holds true for now and investors must react accordingly for the time being.
As always, we hope this helps…
Happy Earnings Season!
TAM's -Rocket & KAT