Gold rose above $1,430 an ounce on Friday after reports of fresh violence in Libya surfaced. February payrolls numbers were good but fell short of expectations. The US economy added 192,000 jobs in the private sector; there was an expectation of 200,000 jobs to be added. Lower than expected jobs number supported expectations that the Federal Reserve will hold off on tightening monetary policy. On the other hand, Euro zone hinted at a rate hike as early as next month. Holding off on rate hike in the US put the real interest rate at negative. Federal Reserve's repo rate is currently at 0-0.25%, but inflation is higher than 0.25%, which puts real interest rate at negative. Negative real interest rates support higher commodity prices. Silver has been defying gravity as there are a number of tail winds supporting its flight. Silver made another 31Yr. high of $36.79 an ounce.
The question that I get asked the most is, where precious metals are headed from here? My answer to that question is, higher. I think there is a lot of steam left in the Silver rally particularly. I do believe that Silver will see a steeper rise than it's cousin precious metals.
If you look at weekly Silver chart dating back to beginning of this year, you will find that Silver goes up almost every Friday. Monday is a tell-tell for Friday. For very week that Silver was up on Monday, it was up on the following Friday.

(courtesy: Yahoofinance)

Now that we have weekly options to take advantage of, for experienced traders who are comfortable trading options, I suggested buying vertical call spreads that expire the following Friday if Silver goes up on Monday of that week.
Fundamentally, there is a lot of steam left in silver rally. Silver chart looks over extended, but as evident from the following chart, SLV is trading still within bollinger bands. Relative strength indicator (RSI) did close at 73.67 which indicates overbought condition, but remember RSI can stay above 70 for an extended period of time like it did from September to mid October of last year.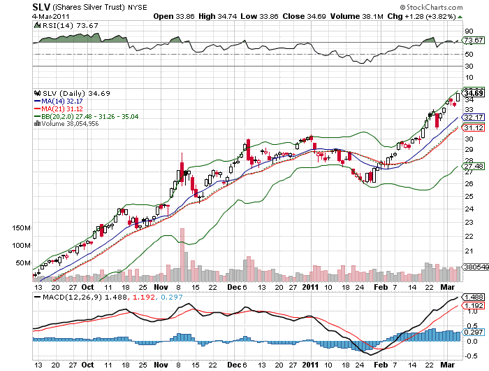 (courtesy: Stockcharts.com)

For the week of March 7th, I recommend buying SLV 33-34 vertical call spread for $0.78. Buy 33 strike SLV Mar 11, 2011 calls for $1.91 and Sell 34 strike SLV Mar 11, 2011 calls for $1.13. You will make 28% return on your investment by next Friday as long as one of the following happens:
SLV stays at the same level ($34.69 closing price of Mar 4th)
SLV takes off from here.
SLV drops less than 2% (up to $34, by Mar 11th)
The only downside risk to this trade is if SLV closes below $33.78 on Mar 11th. Which is 2.5% below the closing price of last Friday. Considering the risk reward ratio, it seems reasonable to put this trade on.
Disclosure: I have position in SLV.
Disclosure:
I am long
SLV
.