Introduction:
In a recent article by Mike Nadel, "Dealing With The "Problem" Of Owning Overvalued Dividend Growth Stocks," the comment stream evolved to a path where the impact of capital gains taxes, with DG stocks held in a taxable account became a rather interesting discussion.
One of the most confusing parts of being an American taxpayer is the convoluted mess that our tax code has become over the years.  If you have any kind of tax situation, other than the simplest of returns, it is advisable to use a CPA to do your taxes and maximize your tax situation so that you end up paying the least amount of money that you have to pay.
How Are Capital Gains Taxed?
This could be an article, in and of itself.  But in the simplest form, capital gains are taxed as follows.
If you own a stock for one year or less, then the tax on any capital gain, from the sale of that stock is going to be taxed as ordinary income.
If you own a stock for one year and a day, then the tax on any capital gain, from the sale of that stock is going to be taxed at the "capital gain rate" as outlined in the tax code.
What Are The Capital Gain Tax Rates?
I found an interesting site that has a capital gain calculator.  You can go to the site by following this link.
Here is a table that is available on that web page that "explains" the different capital gain tax rates: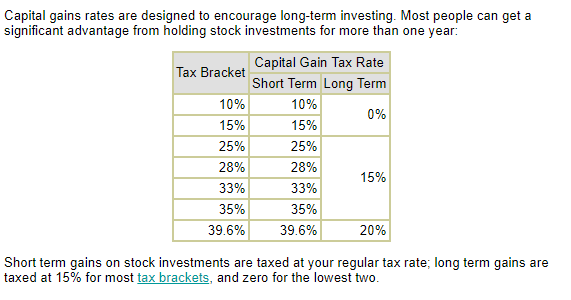 So, if you are in the 10%-15% tax bracket, you are not going to pay any capital gain taxes on those long term capital gains (held one year and a day).
If you are in the 25%-35% tax bracket, then the long term capital gain tax would be 15%.
If you are in the highest tax bracket, the 39.6% tax bracket, then you will a 20% tax on long term capital gains.
Notice that for short term capital gain (asset held for less than one year and a day) the tax rate is at "ordinary income" tax brackets.
How About An Example?
A real time example.  This year, I sold two stocks from my taxable account.  The first sale was Western Digital (WDC),  Our purchase price for WDC was $43.25 per share and we purchased 100 shares, for a total cost of $4325.00.
I sold the entire 100 shares of Western Digital on September 12th for $88.64 a share and that netted me $8864.00 which when you do the math, leaves me with a long term capital gain of $4539.00.
So, what does that sale look like, relative to capital gain taxes?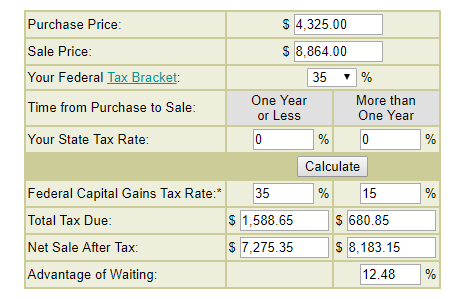 The total tax due on the sale, is $680.85 because the gain is a long term capital gain. Has it been a short term capital gain, then the tax would have been $1588.65.
So, waiting to become a long term capital gain resulted in a tax savings of $907.80.  
The second sale was Monsanto (MON).  We purchased 50 shares at $93.50 a share or $4675.00.  We sold the 50 shares on September 12 for $117.39 a share which was $5869.50 for the lot. 
How does that look, from a tax perspective?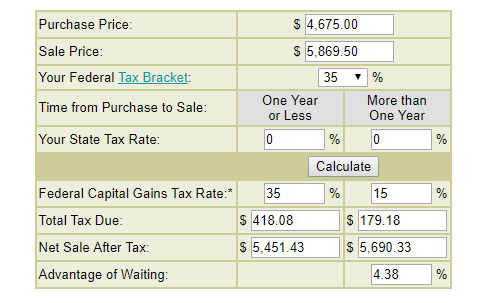 The transaction is going to have a tax of $178.18 as a long term capital gain and as a short term capital gain, the tax would be $418.08 at the 35% rate which is a "savings" of $238.90.
Don't Fear The Tax Man:
When you consider a sale of a position, whether it is a full position (you are selling everything) or a trimming (selling some) and there is going to be a profit involved, you have to take taxes into effect.
One of the things that you can do, to more effectively manage your personal tax situation is to have an "estimate" tax form that you are working on.  A shadow tax form, in effect, so that you can weigh the decision to buy, sell, or hold more effectively.
It doesn't matter where you are in the path toward a financially secure retirement.  Whether you are starting a career, in mid-career mode, approaching retirement or actually in retirement, tax planning is just as important as taking care of your health.
I would advise you to ignore comment threads that discuss the implications of taxes against your investment decisions.
Those comments do not take into account how much income you have, every year. 
They do not take into account the adjustments  to income that you have, in order to arrive at your Adjusted Gross Income number. 
They do not take into account your personal exemptions or whether or not you itemize deductions or take the standard deduction that is relevant to your own filing status, and leads to line 43 on the 1040 form, which is your "taxable income number."
Compounding the issue with that "advice" it that in order to arrive at your net effective tax rate, (which is the most important number you need to know), because every one of us has a different net effective tax rate, based on the entirety of our current financial situation as it relates to the tax year we are living in.
Regardless if you have had sufficient withholding to cover your tax liability and you are going to get money back, or if you did not have sufficient withholding and are going to have to write a check to the government, there is a "tax owed" on the taxable income that will give you that net effective tax rate for your own set of circumstances. 
What we often forget is that our tax system is "progressive."  You pay a different rate of tax for each income level that you pass through.  You can find those tax rates for your specific situation at this link and it would be advisable to look at the tax brackets and how your own tax liability is affected by those brackets.
Going deeper in Part 2.