Introduction:
I published a blog post on SA, looking at Consumer Staples, on April 30th of this year.  Here is a link to that blog post.
There were 33 dividend paying, Consumer Staples stocks, that were members of the S&P 500, in my screen.
My blog looked at these stocks, from the perspective of what I call The Dividend Yield Metric, which is a comparison of the current dividend yield to the 5 year historic, average dividend yield.
That is a metric that was part of the valuation metrics used by Geraldine Weiss, along with other metrics that she employed to find "value" in her stock market analysis.  You can discover more about Geraldine Weiss by picking up a copy of her book, "Dividends Don't Lie" and the updated version of that book, "Dividends Still Don't Lie," by one of her proteges, Kelly Wright.
I think you will find either book to be an interesting read.
Here Is The List From The First Article: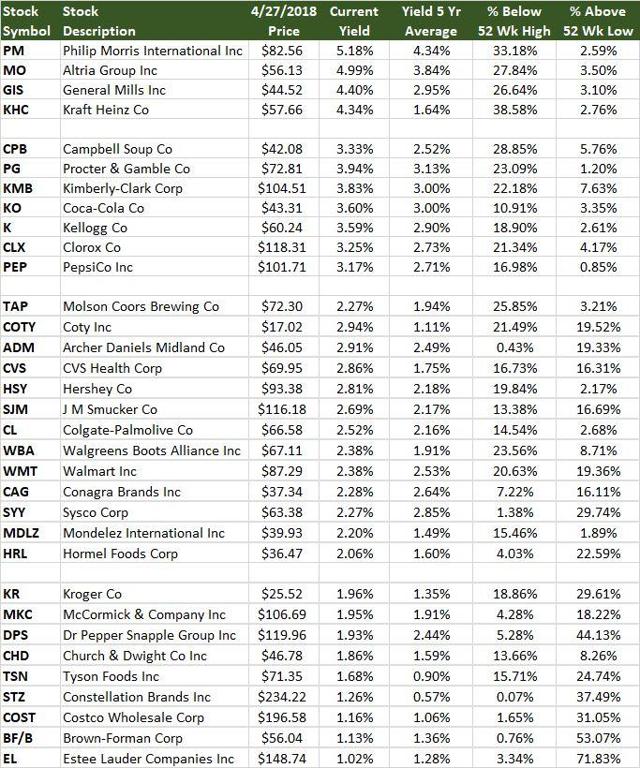 So, What's Changed?
Since the last time we looked at this list, Dr. Pepper Snapple (DPS) has made another merger, this time with Keurig Coffee and has become Keurig Dr. Pepper (KDP) and because of the change in price/dynamics for the company, I made the decision to drop it from the updated list.
This is not a slam on the new company, nor is it intended to be a slight.  I wanted to compare apples to apples and not get all hung up on the new company and the old company having price changes, that were a result of the merger.
The new screen looks like this: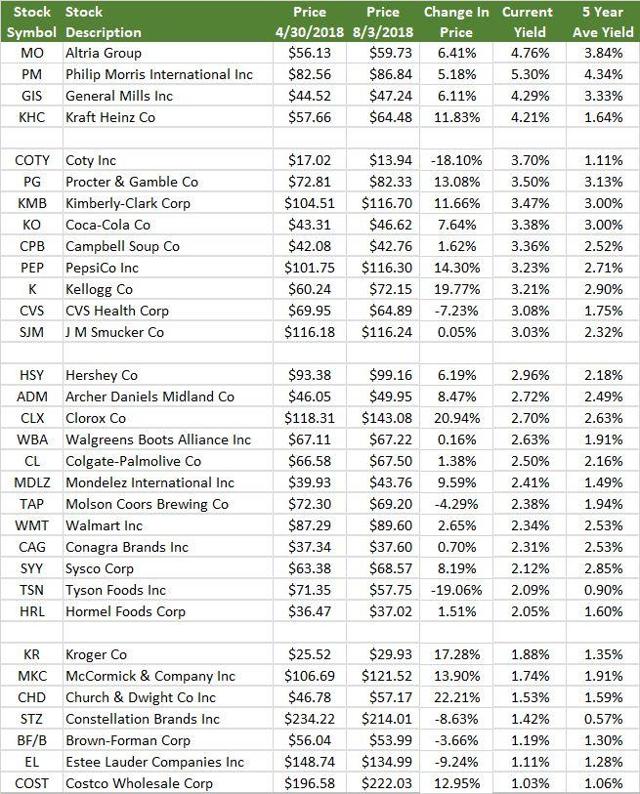 Changes In Price:This new table is focused on the price of the variou Consumer Staple companies from 4/27/2018 as compared to the price at the close of market on 8/3/2018.
The table also shows the current dividend yield, based on the closing price as of this Friday, but also restates the 5 year historic average yield point.
What I find interesting is the price change for each of these companies over the time period being reviewed.
Here is a table that shows price change, highest to lowest over the period being measured: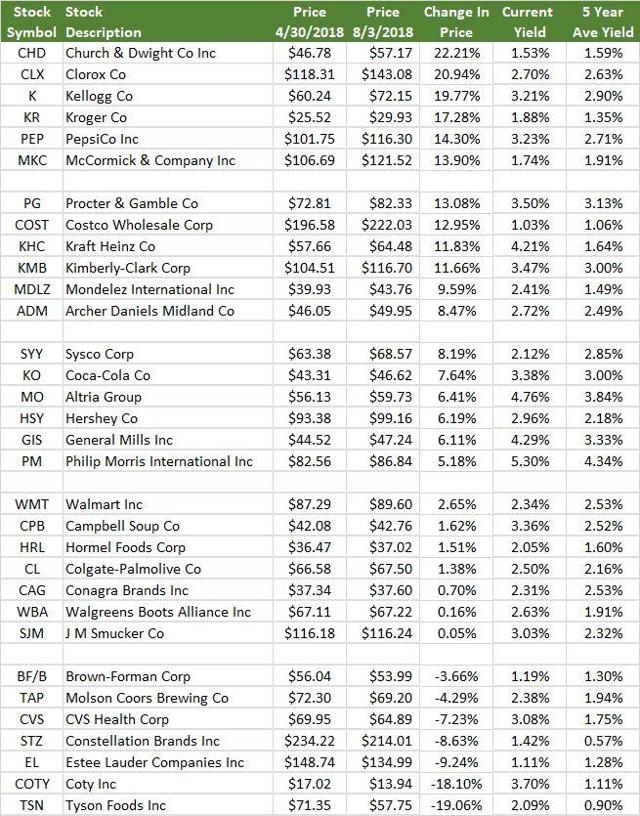 Since the original blog posting, there are 10 companies that have grown by double digits.  Those are, Church and Dwight (CHD), Clorox (CLX), Kellogg (K), Kroger (KR), Pepsico (PEP), McCormick (MKC), Procter and Gamble (PG), Costco (COST), Kraft Heinz (KHC), and Kimberly Clark (KMB) are up double digits.
Using A Watch List:
Part and parcel of using a watch list of stocks, for me, would include looking at a price point, relative to the current yield, that becomes "more favorable" as a target.
For example, if one felt that a company like Mondelez (MDLZ) was worth owning, but felt that the dividend yield of 2.41% but would be happier with a 2.75% yield, you could have taken this target list and placed a limit order for MDLZ at say, $37.75, which would have given you a 2.75% yield and that limit order would have been executed on May 3rd.
Or, let's take a company like JM Smucker (SJM).  At the time of our blog, the price for SJM was $116.18 and the closing price on 8/3/2018 was $116.24.  Virtually a wash.
But had you decided that SJM would be a worthy target with a dividend of 3% or more, you could have set a limit order for the stock at $99 a share and with the former dividend of $3.12 a share, that would have gotten you a 3.15% yield and a 17% with your limit order being exercised on June 7th.
With the new dividend of $3.40 a share, you bought a forward dividend yield of 3.4% which is unheard of for Smucker.
What's the Point?
In and of itself, creating a watch list is irrelevant if you do not take that watch list to the next logical place.  That would be "taking action."
One thing that we know is that stocks go up and stocks go down in price, all the time.  Consumer Staples have been unfairly punished by investors over the last year and there are some bargains in that S&P Consumer Staples group, even today.
Buying individual stocks is active management.  Holding them for long periods of time tends to make the investment more passive, but looking for opportunities seems to be what investors should be doing.
There are more people working today than anytime in the last 4 years  Job growth means growth in disposable income.  Consumer Staples companies take advantage of consumer confidence and that increased disposable income.
Now, we can play all the politics you want to with the narrative devolving into Trump lovers and Trump haters.  But you have to take the politics out of the narrative and focus on what's really happening and not what one group or the other wants you to believe is happening.
Focus on what's happening around you.  My son in law pressure washes houses and concrete, commercial buildings and parking lots, and he has never been as busy as he is right now.  Frankly, I can't believe how much he gets for a job cleaning someone's house and concrete, but his customers don't seem to be even questioning his charge for the service.
He told me what he was getting for a house and concrete walks/driveways in Madison (a city in the Jackson Metro Area) and when he told me, I said, "Are you serious?"  We're talking serious jack and almost as much as I was making a week when I was working, but he's going to make that in 4 hours.
Look around.  Smell the coffee.  Ask your friends and neighbors how things are going at work.  Ask a lot of questions.  
But, never forget that today's stock market rejects could very well be tomorrow's stock market winners.
See any bargains on this list for your own portfolio?  Just a heads up, I made purchases of Altria (MO) at $55, Phillip Morris (PM) at $78, Walmart (WMT) at $82, Heinz Kraft (KHC) at $55 and General Mills (GIS) at $42.50.
Disclosure: I am/we are long MO, PM, WMT, PG, KMB, KO, CL KHC,, MDLZ, ADM, GIS, SJM.
I wrote this article myself, and it expresses my own opinions. I am not receiving compensation for it. I have no business relationship with any company whose stock is mentioned in this article.