Introduction:
I used to be a news junkie.
Not so much these day, though.
The problem that I have with the news is that it tends to be mostly "opinion" and not real news.  The "who, what, where, when, why" news reporting has become a lost art, while the "opinion" news has taken center stage.
Now, I am not presenting any kind of bias here.  It doesn't really matter if you are right or left.  There is plenty of "opinion news" to satisfy whatever side of the political universe that you live in.
And that's the problem.
What You Should Know:
I came across an article, the other day, that really captured my attention.
In the past, I've written articles about "critical thinking" and how that particular skill set is in very short supply, these days.
People seem to like using opinions and emotions, to make their point.  Facts are something that just "gets in the way" of a good story.
This may offend some people, but you can't make this stuff up and I'm just reporting what this group has said and I am not making any kind of judgement about what they are saying.
Just "reporting the news."
A taxpayer-funded museum in Washington D.C. says on its website that objective thinking, self-reliance and planning for the future are among the signs of whiteness that have permeated throughout American culture.

Whiteness and the normalization of white racial identity in America has "created a culture where nonwhite persons are seen as inferior or abnormal," according to an article published by the National Museum of African American History & Culture (NMAAHC).

Other aspects of whiteness include planning for the future, delayed gratification, valuation of time as a commodity, decision-making, self-reliance and politeness, according to the NMAAHC graphic.
Let me say this.  Planning for the future, delayed gratification, valuation of time as a commodity, decision-making, self reliance, and politeness are now considered "bad things."  
Yep.  Critical thinking is not something that we see a lot of, these days.
What I Know:
Not long ago, I posted a blog about two gun stocks.  They were Strum-Ruger (RGR) and Smith and Wesson (SWBI).  At the time of the blog post, (RGR) was selling at $70.98 a share.  That was up from a low, in March of this year when the stock was $40.16 a share.
Smith and Wesson (SWBI) at the time of the article, was priced at $17.68 a share, up from a low in March, of $5.60 a share.
The reason that they peaked my interest, initially, was because of this terrible habit I have, where I "think critically" about things.  It's something that annoys my wife, to no end, considering that she's a "left brain" thinker.
With all the stuff going on in the streets and the lack of law enforcement being used to do anything about the situations on the street, people tend to get nervous.  They go out and do something, over and over again.  They buy guns and ammunition for those guns.  They also attend classes to find out how to use those guns and even carry those guns with them, legally.
Again, I'm not making a value judgement, here.  All I'm saying is that "It is what it is."
Since the blog post, as of yesterday, (RGR) had climbed to $79 a share and (SWBI) has climbed to $22 a share.
The premise that people buy guns in time of chaos is proving itself to be spot on and when we look at these stocks during other chaotic times in recent history, the stock price action plays itself out, over and over again.
But, most people missed out on these two, because they were too busy arguing about face masks, lock downs, and the politics of "control", which have little or no interest to me.
Another Wonderful Example:
But consider this for a moment.  Not long ago, Domino's Pizza (DPZ) came up in a comment thread.  That initiated a rather lively discussion about the merits of owning or not owning Domino's Pizza as part of your portfolio.
But consider this, from a "critical thinking" perspective.  How is Domino's Pizza different than many other companies that serve food?  Domino's and other pizza companies are unique, in that many of them do not feature "dine in service."  
The business model is delivery or pick up.
Absolutely perfect for a global pandemic and people wanting to have food that is prepared by someone other than themselves.
Domino's Pizza Dividend Yield History:
Domino's Pizza (DPZ) has a yield range of .70%-1.0%.  When the yield exceeds 1%, it represents a purchase opportunity.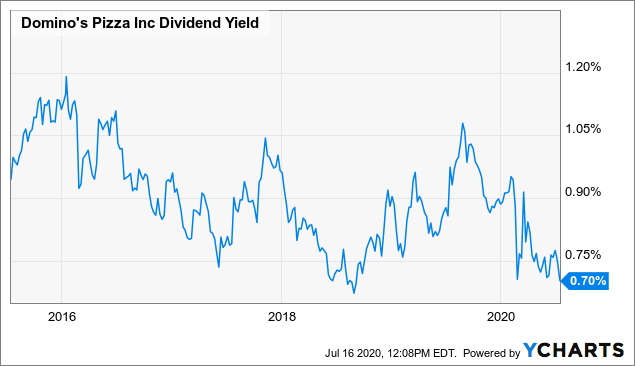 Domino's Price History:
In 2016, Domino's Pizza was selling at right around $100 a share.  Today, the stock is selling at $407 a share.  But, you are probably thinking that the horse is already out of the barn, right?
Well, you could have picked up shares of Domino's Pizza when the lock downs were starting and as compared to many other food service companies, Domino's was CREATED as a "pandemic champion."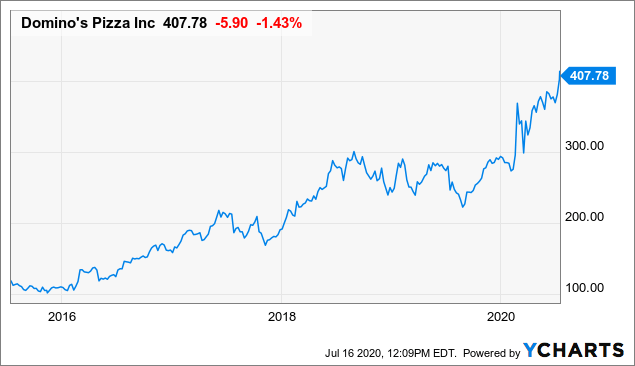 Blending the Charts:
A blended chart for Domino's Pizza, shows three purchase opportunities since 2015.  The first happened in 2016, then again in 2017, and then in 2019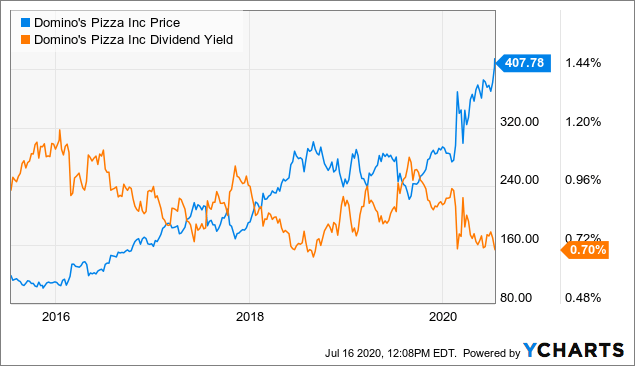 The company is enjoying a nice run, relative to price expansion, and a lot of that has to do with increased orders and menu expansion.  Americans love pizza and consume a lot of it, every year.
Summary:
Don't spend time on the SA section where people argue about politics.  Instead, start to think critically about how you can make more money, with your stock market investments.
Think about who, what, where, when, and why opportunities and then test your thinking with action.
Consider this:
1.  On-line shopping will continue to grow in importance
2.  Health care will become more important than ever before.
3.  Remote medical care is going to go mainstream.
4.  Consumers have become more savvy about disaster preparation.
5.  Sooner or later, people are going to want to "road trip" and get out.
6.  On-line entertainment will grow in relevance and importance.
I believe it was Napoleon Hill who said, "Think and Grow Rich."  Sometimes, finding the opportunity to sit in a quiet place and do some critical thinking about what is going on, all around you, and how you can prosper from that situation makes a lot more sense than fretting over the latest "scandal" on the news.
Switch it off.