A Look At The Historic Performance Of Dividend Champions (Part 4)
Please Note: Blog posts are not selected, edited or screened by Seeking Alpha editors.
Summary
We have been investigating companies that have been increasing dividends for 50 years or more.
But, there are companies that haven't quite met that qualifier, who nonetheless, were Dividend Champions in 2000, along with our previous group of 30 stocks.
There are in fact, 24 additional companies, that would have achieved 25 years of dividend increases in the year 2000 and we are sharing those companies with you today.
Now, there are top performers in this list that are our focus, but keep in mind that most of these companies outperformed the S&P 500 Index during the 20 year period that we are measuring.
Introduction:
I recently wrote a series of blog posts that examined the performance of a group of Dividend Champion companies.
In order to become a Dividend Champion, a company has to have increased their dividend, annually, for 25 years or more.
So, I ranked the Dividend Champions, based on their length of dividend increases and came up with 30 companies that would have achieved Dividend Champion status in the year 2000.
So, if you were shopping for companies to buy, then these 30 would have been right up your alley, if you love Dividend Champions, like I do.
But there is a catch, here. 
Most Dividend Growth investors have this arbitrary yield point that causes them to reject any company that yields less that this arbitrary dividend yield.
So, many of the 30 companies in my list, would likely not be very appealing to some DGI and I have to say, "that's a shame."
Why do I say that?  Well, when looking at the higher paying dividend growth stocks like Procter and Gamble (PG), Target (TGT), Pepsi (PEP), Coca-Cola (KO), and other, higher yielding Dividend Growth stocks, it soon becomes apparent that these higher paying DG companies do not always lead the pack, relative to capital appreciation.
Even when dividends are reinvested.
But Wait, There's More:
When you consider that the 30 stocks that were profiled in my blog posts all has a history of increasing dividends, annually, for 50 years or more, it becomes apparent that their road to becoming Dividend Champions, began in 1970 and in some cases earlier than that.
But I thought about it for a while and realized that there was another group of stocks that were also Dividend Champions in 2020 and those would have begun their road to that status in 1975.  
That means we have to consider companies that have a 45 year or greater, history of annual dividend increases.
And that opens up the list to an additional 24 companies.
They Are:
| | | | |
| --- | --- | --- | --- |
| Stock | Stock  | Dividend | Current |
| Symbol | Description | Years | Yield |
| BKH | Black Hills Corp. | 49 | 2.79 |
| NFG | National Fuel Gas | 49 | 3.86 |
| BDX | Becton Dickinson & Co. | 48 | 1.22 |
| CSVI | Computer Services Inc. | 48 | 1.96 |
| GWW | W.W. Grainger Inc. | 48 | 1.82 |
| LEG | Leggett & Platt Inc. | 48 | 3.06 |
| MSA | MSA Safety Inc. | 48 | 1.36 |
| PPG | PPG Industries Inc. | 48 | 1.58 |
| UVV | Universal Corp. | 48 | 5.82 |
| GRC | Gorman-Rupp Company | 47 | 1.57 |
| KMB | Kimberly-Clark Corp. | 47 | 3.02 |
| MSEX | Middlesex Water Co. | 47 | 1.63 |
| PEP | PepsiCo Inc. | 47 | 2.81 |
| TNC | Tennant Company | 47 | 1.18 |
| VFC | VF Corp. | 47 | 2.17 |
| HP | Helmerich & Payne Inc. | 46 | 7.18 |
| NUE | Nucor Corp. | 46 | 2.84 |
| RPM | RPM International Inc. | 46 | 1.95 |
| SPGI | S&P Global Inc. | 46 | 0.86 |
| WMT | Wal-Mart Inc. | 46 | 1.78 |
| ED | Consolidated Edison | 45 | 3.41 |
| ITW | Illinois Tool Works | 45 | 2.46 |
| TDS | Telephone & Data Sys. | 45 | 2.78 |
| UBSI | United Bankshares Inc. | 45 | 3.00 |
That makes an additional 24 companies that would have achieved Dividend Champion status as of the year 2000.  Since these companies began their quest to Dividend Champion status in 1975, by the year 2000, they would have been on our list.
Performance Data:
When we look at the stocks on this list and their performance over the same 20 years of our previous Champions, the level of performance is very interesting.
Let's take a look at some of the better performers:
Computer Services Inc (OTCQB:CVSI) This company made the list, but it is traded OTC and getting good information about the company was problematic.  I would suggest that you do your own research, but, I am hesitant to accept this one as being something of interest, to my investing strategies.
MSA Safety Inc (MSA)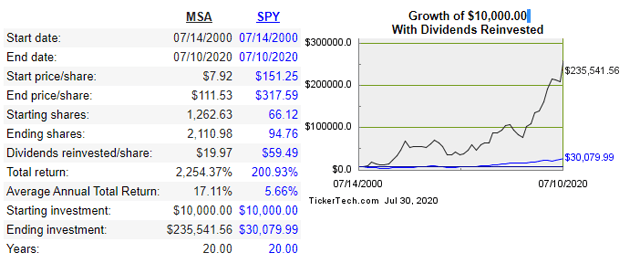 VF Corp (VFC)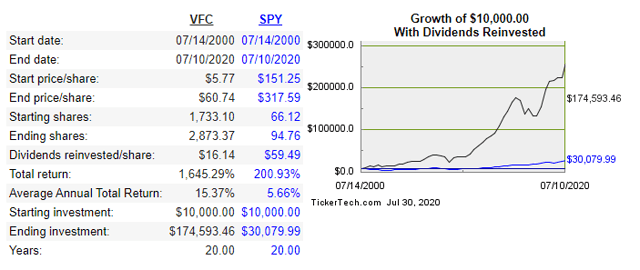 W.W. Grainger Inc (GWW)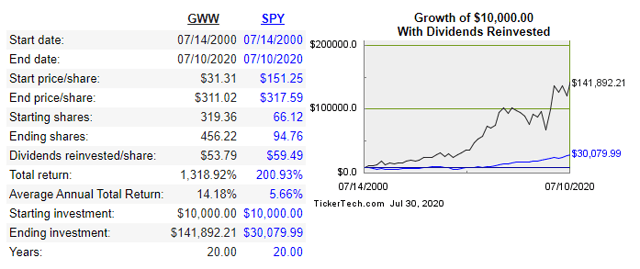 RPM International (RPM)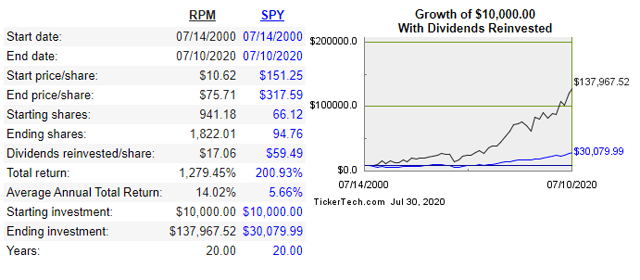 Becton-Dickinson (BDX)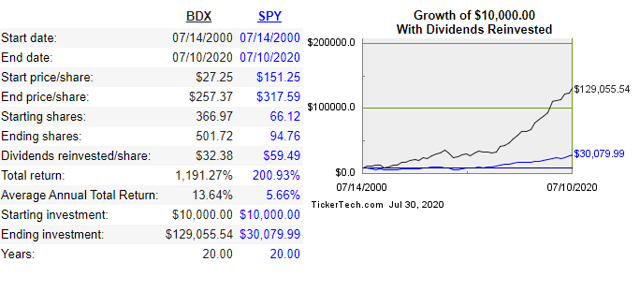 S&P Global, Inc (SPGI)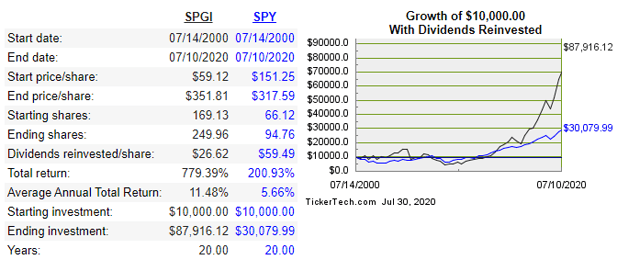 If you want to take the time to look at the remaining stocks, that are not included in this "top performers" group, you can go to this site and run your own screens, with a comparison to the SPY.  Here is the link to "theonlineinvestor.com.
As in the original 30 stocks that I profiled, this list of 24, for the most part, outperformed the S&P 500 Index, as measured by the SPY.  So if they didn't make the final cut, it doesn't imply that they are not worthy of consideration.
It only implies that we are selecting 10-15 stocks for a new portfolio, so that we keep it simple.  We may add or delete in the future, but for the purposes of this exercise, we will stick with the best performing companies, over the last 20 years as our target group.
So, Let's Create A Portfolio:
When we consider The Dividend Yield Metric, these 6 companies are not telling me that they are incredible bargains.  As a matter of fact, there isn't a whole lot in the market, today, that is calling my name.
The same could be said about the previous group of 30 stocks that made up the initial portion of this blog series.
But there seems to be some value in finding the top performers (long term capital appreciation) and as new companies enter into this "rarified air" of Dividend Champions, they can become potential stocks to add to a portfolio.
In the next installment, we will list the stocks that will be part of our Dividend Champion Portfolio and hopefully, you will join us in the process.
Analyst's Disclosure: I am/we are long bdx gww msa kmb vfc rpm wmt itw spgi.
Seeking Alpha's Disclosure: Past performance is no guarantee of future results. No recommendation or advice is being given as to whether any investment is suitable for a particular investor. Any views or opinions expressed above may not reflect those of Seeking Alpha as a whole. Seeking Alpha is not a licensed securities dealer, broker or US investment adviser or investment bank. Our analysts are third party authors that include both professional investors and individual investors who may not be licensed or certified by any institute or regulatory body.