I Get Tired Of People Wanting To Argue With Me, All The Time.
Please Note: Blog posts are not selected, edited or screened by Seeking Alpha editors.
Summary
People seem to have  chip on their shoulder that is bigger than any other time in our history.
You can't reason with people, because all they want to do is shout you down with nonsense and sloganeering.
People have come to the point in history where they believe whatever they are told.  They have no capacity for critical thinking.
We are living in dangerous times.  Your best bet is to ignore the stupid people and just do your own thing, quietly, privately, and walk away from the mob.
While they are playing their silly argument games, you should be making money and not be focused on the b.s. that has become intellectual discourse in this country as of late.
Introduction:
I wrote Dividend Growth Investor, I've become a fan of the valuation metrics that were part of the "system" used by Geraldine Weiss.  One of her metrics was "The Dividend Yield Metric," where investors look at the current dividend yield and the 5 or 10 years historic average yield for a given company.
When the current yield is greater than the 5 or 10 year historic average yield, for that given company, it may be telling you that the company is "on sale."
For those who "buy and sell" (like Weiss), this metric works both ways.  It can indicate a purchase point and it can indicate a selling point when the stock becomes overvalued, relative to the yield metric.
But I don't want to belabor the point, here.  Instead, I want to talk about a company that has been getting a lot of positive vibes on Seeking Alpha, lately, and it is a company that people are definitely passionate about, either pro or con.
At the end of this article, I will provide links to the entire series of "Dividend Don't Lie" blogs for your review.  
An Interesting Paradigm:
CenturyLink (CTL) is a company that has been promoted and demoted on the pages of Seeking Alpha for an incredibly long time.  Back in 2010, when I found Seeking Alpha, people were talking about this company and another similar company, Frontier Communications (FTR).
In a recent article about CenturyLink (CTL), the comment thread took on a life of it's own.  But as in most comment threads, the flow tended to get a bit off track and devolve into a place where there was little or no common ground.
Instead, the defenders of (CTL) would not acknowledge any flaws in the company and even when presented with facts, the defenders would not accept those facts, but question the source of the facts.
So, it stopped being fun.
How I Go About Picking Stocks:
I don't spend a lot of time with fundamental analysis.  I don't spend a lot of time with technical analysis.  What I do, at the end of every month, is run a very simple screen to find potential stock purchases, moving forward.
I use Schwab, so my screen looks like this:
Under "Index" I normally choose the S&P 500.
Under "Price" I normally leave it blank.  I don't care about the price.
Under "Annual Dividend Yield" I will generally begin with the "greater than 6%" companies.
Under the "Yield 5 Yr Average" I will generally choose yields that are below the 6% current yield to filter out stocks that are currently paying more than the 6% yield.
Rationale:
The process is designed to look at stocks that are currently yielding more than their 5 year historic average.  I'm not interested in companies that do not meet that criteria.
Then I do the same for each group of yields, looking for those anomalies.
Consider This:
My focus is not always on the "obscure" company.  I like to buy companies that I'm familiar with, especially when they are on sale.  Companies like Procter and Gamble (PG), Coca-Cola (KO), Colgate Palmolive (CL), Clorox (CLX), Johnson and Johnson (JNJ), McDonald (MCD), Target (TGT) and other Blue Chip companies.
If The Dividend Yield Metric is right, then the stock that is represented as a value will not remain a value forever (unless the company has turned into a dog with fleas).
That "reversion to mean" is a concept that many investors ignore, but time and time again, stock prices revert to mean and investors taking advantage of that principle can prosper very nicely. 
Or if they are a buy and hold investor, increase their long term growth by buying low.
But What About CenturyLink?
Following The Dividend Yield Metric, you will find that CentryLink (CTL) has a current yield that would indicate that it is priced at a value.
For those of you unfamiliar with the company, the current dividend is $1.00 annualized.  The price of the stock is $10.99 (as of the close of business today).  That means CTL has a current yield of 9.20%
Sounds interesting, right?
Well, there's a bit of a problem with that dividend.  First, CenturyLink is not a Dividend Growth Company.  It is a company that pays a dividend. 
Big difference.
CenturyLink and It's Dividend:
In 2012, the company paid a dividend of $2.90 annualized, but cut the dividend to $2.16 in 2013.  It then froze the dividend at that level for the next 6 years.
And then?  It cut the dividend again, in 2019 from $2.16 a share to $1.00 a share.  It's remained there, ever since that cut date.
This is what the 10 year dividend chart looks like, from Y-Charts: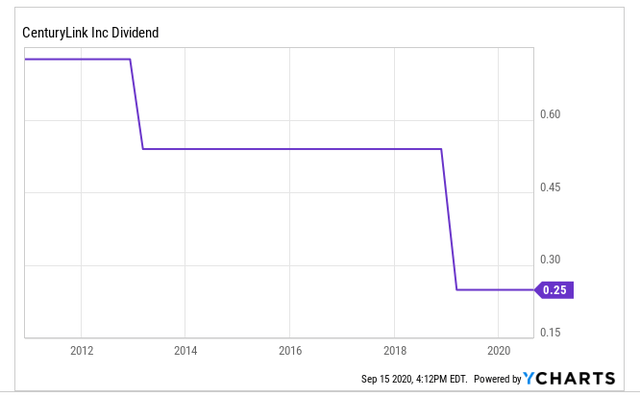 Whoops.
What About The Price of the Stock?
Well, if Dividends Don't Lie, and they are an indication of a potential issue with a company, then the chart of the (CTL) price movement is worth a look.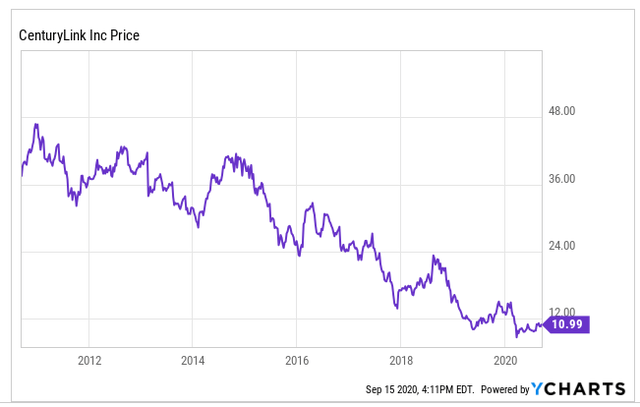 From almost $48 a share back in 2011, this company has had an erosion of price all the way down to the current $10.99 a share as of 9/15/2020.
That's what we refer to as "butt-ugly."
What Does The Dividend/Price Chart Look Like?
This is interesting.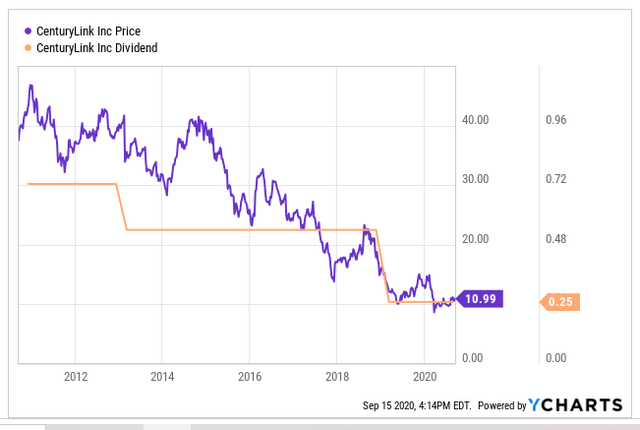 The decline in price, when matched to the reduction and the freeze of the dividend, presents a very typical looking chart for companies that follow the same path as CenturyLink.  Do you see the relationship between the two lines?
Could it be any clearer?
Yet, There Are People Who Don't Get It:
One comment told us that there is a new and gifted management team on board with CenturyLink.  That's great.  Perhaps they can reverse the company's fortunes.  But, let's give them a chance and be patient as they try to turn this ship around.  It takes time.  But there is no point in getting on board today, is there?
One comment said, that the company was changing its name, from CenturyLink to Lumen.  I'm not sure how that becomes an indicator of a turn around, but to some people, the name change seemed to be something to cheer about.
But you can put lipstick on a pig and at the end of the day, it's still a pig.
And on and on and on, went the defenders.  Defending their stock against the investors trying to make the opposite argument.
I was reminded of Hamlet in Shakespeare, when he said:
To buy, or not to buy, that is the question:Whether 'tis nobler in the mind to sufferThe slings and arrows of outrageous fortune,Or to take Arms against a Sea of troubles,And by opposing end them: to die, to sleep;No more; and by a sleep, to say we endThe heart-ache, and the thousand natural shocksThat Flesh is heir to?
A question that investors have pondered for hundreds of years.
The Good News:
What seems to be lost in the minds of the defenders, is that people have different opinions about things.
Those different opinions used to be catalysts for intelligent discussion.
But these days, everyone gets offended by someone having a different opinion that theirs and they have this need to not only defend their position, but to argue their points with anyone who will dare to disagree with them.
What the hell is up with that?
After I said that there was not chance of my investing in CenturyLink (CTL) right now, the attacks began.  One guy, who seemed rather passionate about the stock tried a tricky maneuver by asking, "Could it be that you actually own (CTL) in an Index, and you don't even realize it?"
Well, I didn't fall off the last turnip truck, so I told him that it would be difficult for me to own (CTL) in an Index, because I don't own any Index Funds or ETF's.  Just individual stocks.
Then, "You obviously haven't looked at the company financials."  Well, they aren't that big a deal to me, but the  earnings and cash flow has been decreasing and the operating income has been negative for two years in a row.  I guess that's why they brought in a new management team?
No stock is a "must" own company.  You don't have to own every single stock in order to have a diversified portfolio.  But if you are going to buy stocks that have no story to tell, then you deserve what you get.  Heartache.
In a year, this company might be the best thing since Soy Milk.  I have no idea, but I know this.  I can wait for it to become worthy of my interest and having a place in my portfolio.
Why would I own this company now and not wait until it presents itself as a company that has turned around and has a management team in place that is firing on all cylinders?
What say you?
Analyst's Disclosure: I am/we are long KO, CL, KMB, JNJ, MCD, TGT, PG, CLX.
Seeking Alpha's Disclosure: Past performance is no guarantee of future results. No recommendation or advice is being given as to whether any investment is suitable for a particular investor. Any views or opinions expressed above may not reflect those of Seeking Alpha as a whole. Seeking Alpha is not a licensed securities dealer, broker or US investment adviser or investment bank. Our analysts are third party authors that include both professional investors and individual investors who may not be licensed or certified by any institute or regulatory body.