Just Another Frog In A Pot Of Water.
Please Note: Blog posts are not selected, edited or screened by Seeking Alpha editors.
Summary
Americans are complacent.  They are willing to give up their freedoms and their liberty to a bunch of people who have come to believe that they are our masters.
We eliminated the plantation in 1865, but it has been replaced with a new plantation, called "The Swamp" by a few people.
The Swam gives you $600 stimulus checks as a token of their compassion while doling out billions of dollars to special interest groups and foreign governments.
The ruling class tells you that "you don't understand" the geopolitical environment that we are living in and thus you are "ignorant."
The problem is that the American people allow these Swamp Dwellers to continue getting away with their behavior as opposed to fighting back.
Introduction:
Not long ago, I wrote a blog post about the recent stimulus bill.  The blog was titled:  "Christmas Stimulus Will Make America Great Again."
Some people seemed to miss the premise of the blog post.  While some believed that the post was a slam against Democrats, because of a failure on my part to mention Mitch McConnell, the purpose of the post was to suggest that politicians in Washington are not motivated to "make America great."  
Instead they are motivated to the concept of "Make Me Rich With Money Laundering Pork Barrel Legislation."
As I pointed out, in the blog, the same concern was voiced over 100 years ago by a comedian, Will Rogers, who suggested that we have the best politicians that money can buy.
What you should have "gotten" from that statement is the fact that in 100 years, absolutely nothing has changed in Washington and the American people are too stupid to do anything about it, other than suck at the tit of government largess.
We have become a pathetic mass of slime and goo, with no spine, not moral compass, and a lack of concern about anything the government does, as long as we have two cars in the garage, a couple of hundred bucks in the bank and we are able to make our mortgage payment and give the kids the opportunity to play in soccer leagues and little league baseball games.
In other words, we have become the frog, being boiled alive in the pot of water in the stove.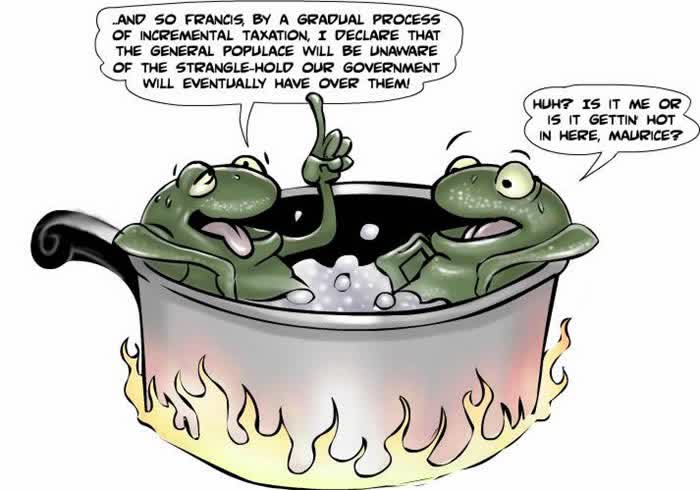 Some Recent Developments:
Nancy Pelosi was recently voted back into her position as Speaker of the House.  Good for her!  In her desire to do the "work of the American people", Nancy led the charge for a proposal to make Congress "gender neutral."
The Rules Package for the 117th Congress includes a proposal to replace gendered language referring to a representative's family members with gender-neutral terms, House leaders announced Friday.

Democratic California Rep. Nancy Pelosi and Democratic Massachusetts Rep. James McGovern, chairman of the Rules Committee, announced changes to the House rules that will "honor all gender identities" by modifying the pronouns and familial relations references in the rules, the Committee on Rules announced.

The resolution would change "pronouns and familial relationships in the House rules to be gender neutral or removes references to gender, as appropriate, to ensure we are inclusive of all Members, Delegates, Resident Commissioners and their families – including those who are nonbinary," McGovern's announcement

The new rules also change "seamen" to "seafarers," "chairman" to "chair" and "submit his or her resignation" to "resigns," according to the resolution.

References to fathers, mothers, fathers, sons, daughters, brothers, sisters, husbands, wives and in-laws would be changed to "parent, child, sibling, spouse, or parent-in-law," according to the resolution. Extended family members would be referred to as "child's parent" instead of aunt or uncle, stepparents, and siblings in-law. 
As an aside, relative to the rule changes proposed about changing the term "seamen" to "seafarers", my son, who is in the Navy is required to refer to fellow sailors as "shipmates."
Ah, the insanity.
"Thanks to the leadership of Chairman McGovern and our Members, Democrats have crafted a package of unprecedented, bold reforms, which will make the House more accountable, transparent and effective in our work to meet the needs of the American people," Pelosi said in a statement.
And let's face it.  Stuff like this is much more important than getting the economy back on its feet.  It's much more important that creating jobs, opening businesses that are closed due to the pandemic.  It is much more important than helping American small business remain viable in a challenging economic time.  
The problem is with YOU.
You have your priorities all wrong.  How dare you want a return to some semblance of normalcy.  We (the politicians) know that your main concern is having Congress move in a direction toward "gender equality."
You can't make this shit up, folks.
In Other News:
On Sunday, the 117th Congress was called to order.
In a demonstration of political correctness run amok, Rep. Emanuel Cleaver (D-Mo.) offered the opening prayer of the 117th Congress on Sunday — ending the invocation with "amen and a-woman."

Cleaver's shocking choice of words came after Democrats proposed eliminating all "gendered" language from the House rules, instead opting for "gender-inclusive" language. Cleaver's decision to end the prayer with supposed gender inclusivity was no doubt a nod to his party's genderless agenda. 
You have to wonder if there was anything going through Rep. Emanuel Cleaver's mind, when he ended his prayer with "Amen and A-Woman."  
Anything at all?  
Like, how stupid is this going to make me sound and what is the potential repercussions from the Twitter mob?  
Glad you asked.
Matt Walsh said:
Dems open congress with a prayer that ends "amen and awoman." Amen is a Latin word that means "truly" or "so be it." Awoman is a nonsense word that means nothing. Dems find a way to make everything stupid and nonsensical. Utter clowns, all of them.
Larry The Cable Guy said:
Congress today did a prayer and finished it with "amen" AND "a woman" to be gender equal. Are they really that dumb. Amen is Latin/Hebrew for "Truly" or "So be it"? It has nothing to do with Gender. These people are complete idiots. Ex: "God is great." "Amen" (truly) duh!
Liz Wheeler (political commentator) said:
The prayer to open the 117th Congress concluded, "Amen & Awoman." This can't be real, right? Nobody is actually THAT STUPID?!
The Bottom Line:
Obviously, since Cleaver is an ordained minister and has been a pastor of a church, he knows that "amen" is not a gender related word.  But instead, he has an agenda and that agenda doesn't have to deal with reality or the "facts."
Amen will always be unrelated to gender. If you have to misrepresent the facts in order to make your point, perhaps you should abandon that point. Resorting to dishonesty, which is effectively what Cleaver did, is never a good means of persuasion. If you think women need to be more involved and included in society, then develop an argument that supports your claim instead of fabricating unrelated points to champion your own.
Like I said, you can't make this stuff up.
More to come.  Hang in there.
Seeking Alpha's Disclosure: Past performance is no guarantee of future results. No recommendation or advice is being given as to whether any investment is suitable for a particular investor. Any views or opinions expressed above may not reflect those of Seeking Alpha as a whole. Seeking Alpha is not a licensed securities dealer, broker or US investment adviser or investment bank. Our analysts are third party authors that include both professional investors and individual investors who may not be licensed or certified by any institute or regulatory body.