It's Time For Energy Stocks
Please Note: Blog posts are not selected, edited or screened by Seeking Alpha editors.
Summary
I love making money.
I am not politically oriented.
I'm a pragmatist.
I wrote two blog posts, not long ago, and while to titles of these two blogs would appear to be unrelated, they are actually, quite the opposite.  In other words, they go together like ham and cheese.
The Stock Market Has Nothing To Do With Politics, But Everything To Do With Policy | Seeking Alpha
Diversification Is All The Rage, These Days. But, Diversification Leads To Mediocrity (NYSE:COP) | Seeking Alpha
Over the last 18 months or so, I've come to a dramatic shift in the way that I look at things, relative to investing, and sometimes I think that I am a bit ahead of the curve when it comes to other people "understanding" what it is that I'm saying.
A lot of people seem to have this notion that I am a Trump supporter.  I'm not.  Some people think that I hate Biden.  I don't.
I'm not political.  
I'm pragmatic.
How Policy Affects Investing:
When Biden got elected President, I began to consider the kind of things that he would like to do, while he was President.  His policies.  What kind of things float Biden's boat and how can I profit from his governing policies?  
Well, the obvious answer to that question was Biden's take on energy.  Let's face it, Biden is enamored by "green energy" and "alternative energy sources."
Now, that's a good thing.  Not a problem with me.
So, how does that policy paradigm affect the energy sector?  Actually quite favorably.  
Energy, from oil, is a commodity.  Like wheat, corn, soybeans, cattle, etc.  The market in oil operates on supply and demand.  We have all been sitting at home forever, with this Covid-19 pandemic and travel has been restricted.  Supply exceeded demand and the price of oil did exactly what it should have done.  It dropped.
Well, oil companies find it hard to make money with oil priced as low as it's been, but Biden announces that he will close the XL Pipeline, ban fracking, and ban drilling on government land.  Now, none of that has happened yet, but the investors are seeing oil prices going up as Biden's policies get put in place.  And the foreign oil sources (think Venezuela and the Middle East) are going to pull back on production, because that will further limit supply.  And that means?  Oil prices are going up and oil companies will be making money hands over fist.
Blog Number Two:
Here we look at diversity.  But from the construct of the S&P 500 Index.  We look at the top 10 holdings in the index and then we look at the stock sectors and the percentage of dollars allocated to each sector.
What do we see?
The best performing sectors have the least amount of dollars allocated to stocks in those sectors and as a result, the overall performance of the Index is no where near where it should be, over the last 3 months, year to date, or the last month.
Whoops.
Why Does This Matter?
It matters because the opportunity to make money in the stock market is driven by sector activity.  How so?  Glad you asked.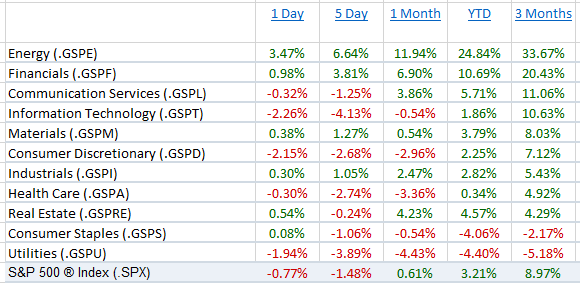 The S&P 500 Index is up 8.97% over the last 3 months.
The Energy sector is up 33.67% during that same time frame.  
Why is that important?  Because the dollar allocation in the S&P 500 to the Energy sector stocks is less than 3% of the total dollars in the Index.  So, the hottest sector has the least amount of money working for investors, and the biggest sector investment is found in Information Technology, which is up 10.63% over the last 3 months, but 27.6% of the dollar assets of the index are invested in IT companies.
Wait.  What?
How To Profit:
Consider allocating a part of your portfolio to the Energy sector.  I have.  
Analyst's Disclosure: I am/we are long VLO XOM CVX COP OXY PSX HFC.
Seeking Alpha's Disclosure: Past performance is no guarantee of future results. No recommendation or advice is being given as to whether any investment is suitable for a particular investor. Any views or opinions expressed above may not reflect those of Seeking Alpha as a whole. Seeking Alpha is not a licensed securities dealer, broker or US investment adviser or investment bank. Our analysts are third party authors that include both professional investors and individual investors who may not be licensed or certified by any institute or regulatory body.