The Fed has caused a sell-off in the Power Shares DB US Dollar Index Bullish (NYSEARCA:UUP) recently, by announcing QE3. The Power Shares U.S. Dollar Index Bullish tracks the dollar against a weighted basket of the Euro, British Pound, Yen, Swedish Krona, Swiss Franc and the Canadian Dollar. This sell-off is a reaction to the open end asset purchases by the Fed and this current environment seems to be quite dollar-negative and carry-positive when we look at the anchor funding rates. In the past week, the dollar regained some of its big losses in the aftermath of QE3, cutting a losing streak of 4 weeks.
Nevertheless, large institutional investors are betting heavily against the dollar, according to the Commitment of Traders Report, which was published last Tuesday (Chart 1). The Commodity Futures Trading Commission (CFTC) provides inside information about purchases and sales of different futures contracts. The largest players in each futures market are required to disclose their positions to the CFTC on a daily basis and this report is released on a weekly basis. These traders are separated into Commercial Hedgers and Large Traders. While Large Traders are commonly equated with hedge funds, they may also include Commodity Pool Operators and other managed accounts as well as large institutional investors.
If we have a closer look at the chart 1, we can see that the net positions of all aggregated large traders have hit a new yearly low, indicating that they have reduced their dollar positions significantly. As the market is driven by supply and demand, it is definitely worth to take a regularly look what those big institutional investors are doing.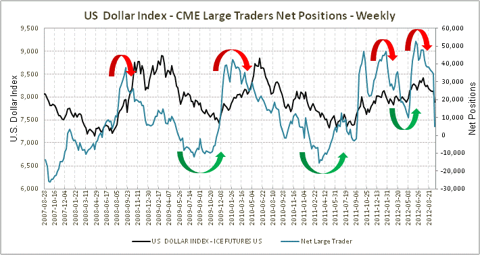 Disclosure: I have no positions in any stocks mentioned, and no plans to initiate any positions within the next 72 hours. I wrote this article myself, and it expresses my own opinions. I am not receiving compensation for it. I have no business relationship with any company whose stock is mentioned in this article.