Summary: Today's jobs report is critical. The economy is slowing - slowly. September's weak employment growth (below that of the previous 3 and 12 months) fits nicely into this picture. To see how, review the current state of the economy - and why we are so poorly informed about it.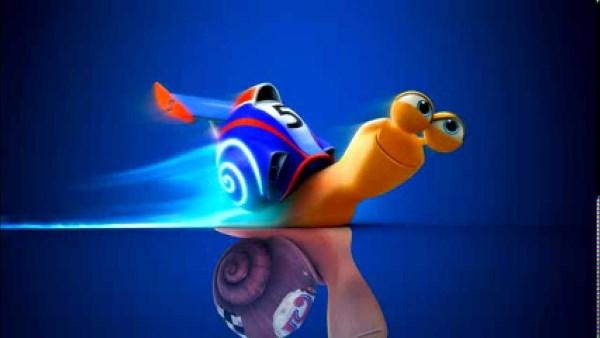 Slow growth: the consistent picture during the economic recovery
The average growth rate of real GDP during the seven cycles from 1958 to 2001 was 3.5%/year. GDP grew 1.6%/year during the 2001-2009 cycle (2.8%/yr during the expansion phase). During this expansion GDP grew only 2.1% SAAR (seasonally adjusted annual rate). The full cycle rate will include the recession that ends it pulling the average down even more.
Each of the squiggles on this graph produced excited news stories and research reports. Bulls announced the peaks marked the start of a boom. Bears announced the troughs marked the beginning of the End Times.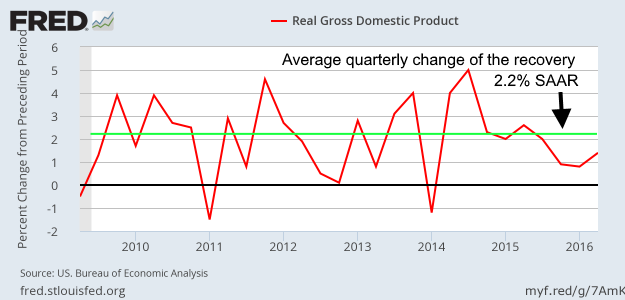 Looking ahead - on August 3 the Atlanta Fed's GDPnow model forecast Q3 real GDP of 3.2%. The bulls were euphoric, predicting that the Fed would soon begin to raise rates back to "normal" levels. Surprise! As the five or so previous episodes of good news, secular stagnation has struck back. The current forecast is 2.2%. It's called regression to the mean.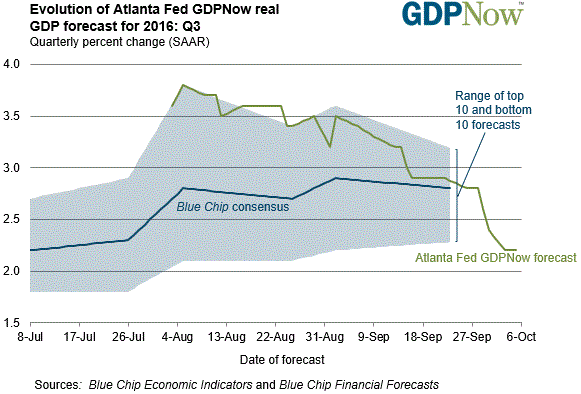 Signs of the economy rolling over
As the end of an expansion approaches, slowly signs of decay appear - usually first in minor indicators. Like these…
People love to watch manufacturing, although its value added is only 11.8% of GDP. It is looking weak. New orders for manufacturers' goods peaked in mid-2014, dropped ~10% (back to where they were for 9 years ago), and have been flat for 11 months.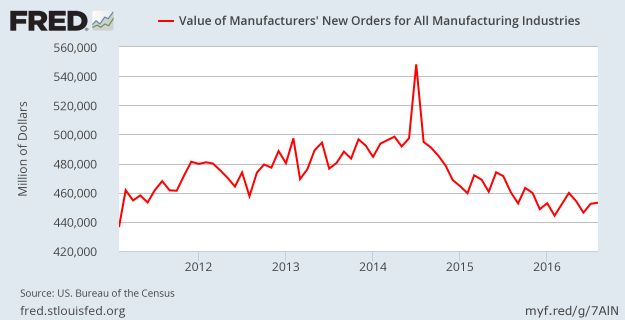 Here's another offbeat indicator: the National Restaurant Association's Restaurant Performance Index. It peaked in mid-2015; by August fell into contraction (below 100).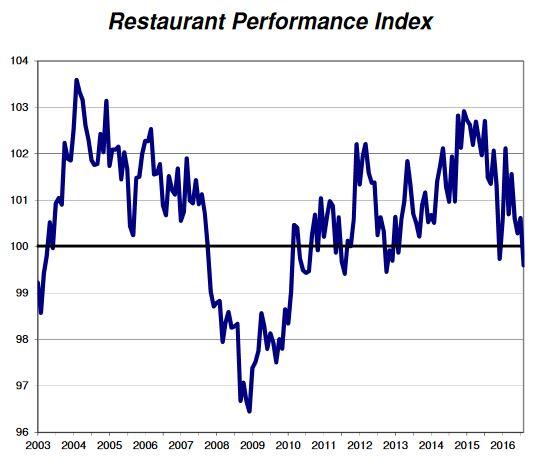 Another example of the economy rolling over: light vehicle sales peaked in November 2015 and have declined back to the level of August 2014. Vehicle manufacturing is a smaller fraction of GDP than in the past, but still worth attention.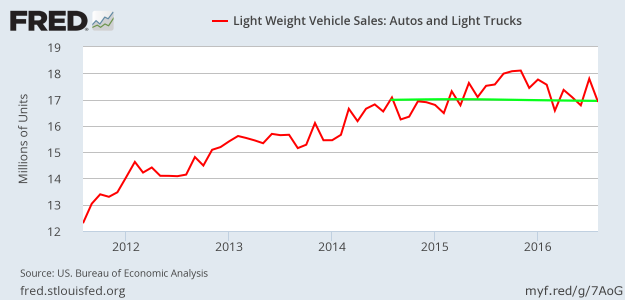 Construction spending is typical of many indicators. It has been flat since August 2015.
A reminder not to take any of these indicators too seriously
People were excited by the fantastic rise in September's ISM services purchasing managers index (PMI), the highest since October 2015. But the Markit Services PMI looks weaker. Which is correct? Only time will tell. This reminds us that these are economic surveys, not oracles.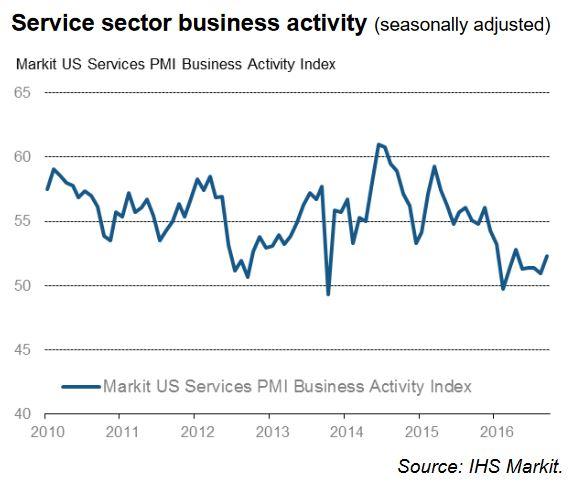 Conclusions
Watch the trend, not the exciting monthly noise. As I have been writing for the past year, the US economy is slowing in several senses. It has been slowing since the 1970s by several measures. It began slowing fast during the 2001-2009 cycle. It's secular stagnation. The candidates ignore it; we allow them because we prefer to watch Circus 2016.
The economy appears to have peaked roughly in 2015. The rate of slowing is very slow, astonishingly slow (much slower than I expected). The slow growth of this expansion has produced few of the imbalances that usually cause recessions. If this slowing continues, eventually America will slide into a recession. Since this cycle has been so unusual, I believe we cannot make reliable predictions about how it ends - or what comes next. It might be deep and long, short and shallow, or just different.
Lessons learned
The people providing information and research have agenda. Some are perma-bulls and perma-bears. Others just want excitement (boring means few clicks). All of these mislead us. The noisy array of economic indicators - hundreds of them - allow cherry-picking to produce useful stories. But the trends can easily be seen for those that look.
Unfortunately trends do not tell us what comes next. Determining that is beyond both art and science. But trends can help us prepare. I suggest preparing for bad news in 2018.
For More Information
See all posts about economic growth, about secular stagnation, and especially these…
Disclosure: I/we have no positions in any stocks mentioned, and no plans to initiate any positions within the next 72 hours.