Summary:
First, we got yet another in the almost endless series of economic indicators showing the US economy stuck in "slow". Retail sales -- critical in our consumer-driven nation -- is up only 2.9% YTD YoY, with September +3.4% YoY (NYSE:NSA) -- see the report. We should be at peak growth in this expansion; instead growth faded in Fall 2014 and has remained slow since then.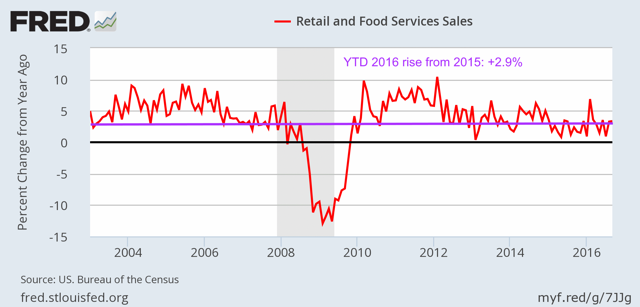 Second, with this data the Atlanta Fed's GDPnow model lowered its prediction for Q3 real GDP to +1.9%. The forecast on August 5 was for 3.8% growth. On October 28 we get the advance estimate from the BEA. The average GDP growth since the trough in Q2 of 2009 has been 2.1%. The data for Q3 shows no change in that slow growth.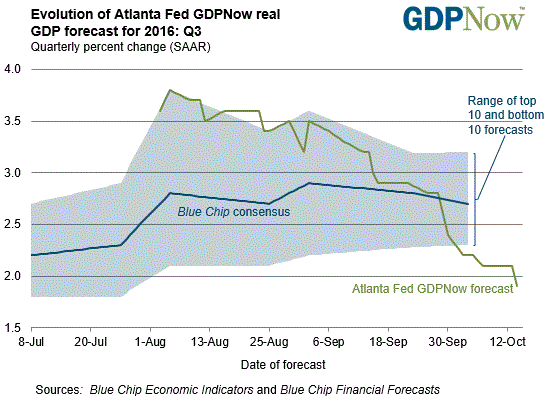 Two percent GDP growth is too low for the Fed to risk raising rates. Any slowing from the increase plus an external shock (bad luck) would start a recession that the US is ill-prepared to face. Nor are there any signs of overheating that would require raising rates.
The Fed has made mistakes before, and so it is possible that the Fed might raise rates one or two times more. But they see these numbers as clearly as you and I. They are unlikely to act uncharacteristically boldly.
Other posts at Seeking Alpha about this business cycle.
Disclosure: I/we have no positions in any stocks mentioned, and no plans to initiate any positions within the next 72 hours.