Spot Uranium Declined
Uranium prices fell 4.7 percent after the U.S. authorized transfers of the nuclear fuel to fund accelerated cleanup operations at a former enrichment plant owned by the government, according to Ux Consulting Co. Uranium-oxide concentrate for immediate delivery traded at $66.50 a pound in the seven days ended yesterday, down from $69.75 the week before.
So Did Uranium Stocks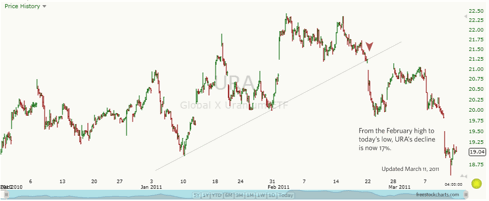 In the hourly timeframe, the Global X Uranium ETF (NYSEARCA:
URA
) fell precipitously, finding what looks like a bottom, or perhaps a ledge.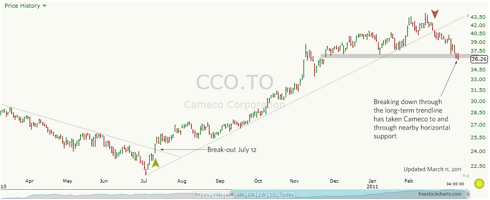 Longer-term, represented here by Cameco's (NYSE:
CCJ
) daily progress on the TSX, uranium stocks have registered a good-sized correction, now down more than 20% since the high clocked on Valentine's Day. Support appears wobbly.

Top Uranium Stories This Week
Denison (NYSEMKT:
DNN
) reported its 2010 results, Revenue was $128.3 million, producing a net loss of $14.2 million or $0.04 per share, with cash flow from operations of $35.6 million.
As did Uranium One, which announced a 115% increase in revenue to a record $327 million, based on sales of 6.9 million pounds of uranium at an average price of US$48 per pound, compared with 3.2 million pounds sold during 2009.
Guangdong Nuclear Power Group Co., China's second-largest reactor builder, made a $1.2 billion bid for Kalahari Minerals. The acquisition would give the state-owned company access to Extract Resources's Husab uranium project in Namibia. Kalahari owns about 43 percent of Australia's Extract, which calls its venture the fifth-biggest uranium deposit.
The Australian government says it will soon begin negotiating with the United Arab Emirates to sell uranium to the Middle Eastern country on condition that it is only used for peaceful power generation.
In junior stock news, Ur-Energy entered into its first long-term uranium sales agreement with one of the largest producers and transporters of energy in the United States.
Vena Resources announced the initial results of the third major drill campaign on the Macusani properties of Minergia S.A.C., a uranium exploration company jointly owned by Vena and Cameco Corporation.
Cameco optioned a 60% interest in the 98 square kilometer North West Athabasca project to Forum and Mega Uranium, which includes the historical 1.5 million pound Maurice Bay uranium deposit in the Western Athabasca Basin.
Athabasca Uranium completed Phase One of its multi-phase exploration program on its East Key Lake, McGregor Lake, Webb River and McCarthy Lake uranium projects, located on the southeastern margin of the Athabasca Basin, Saskatchewan.
Energy Fuels was issued the final radioactive materials License for the Piñon Ridge uranium mill, to be constructed twelve miles west of Naturita, Colorado.


Recent Commentary
Garimpeiro discussed China's state-owned CGNPC Uranium will have to make a downstream bid for Extract Resources as a result of CGNPC's planned $US1.23 billion takeover bid for London-listed Kalahari Minerals.
Forsys Metals CEO Marcel Hilmer said on Tuesday the "explosion" in nuclear power's demand for uranium means there'll be a lot more buyouts of producers of the fuel in the future.
In this BNN video
, both Patricia Mohr of Scotiabank Group and Rick Rule, founder of Global Resource Investments, offer their predictions of what the future holds for uranium.
Uranium prices will climb to $90/lb by 2013, TD Newcrest analyst Greg Barnes said on Sunday. Rising Chinese demand and the end of an agreement for the US to make nuclear fuel out of Russian warheads will have the biggest impact on pricing, he said.

Nuclear Energy News
Japan's earthquake caused a power outage that disabled a nuclear reactor's cooling system, triggering evacuation orders for about 3,000 residents — Japan's first-ever state of emergency at a nuclear plant.
John Rowe, CEO of Exelon, the largest nuclear operator in the US, says that the radically transformed natural gas outlook for the US has destroyed the economic prospects for nuclear, clean coal, wind and solar.
China will surpass the United States as the world's largest consumer of uranium during the 2020s as the nation's imports rise sharply to feed a growing nuclear industry.
Once the world's largest producer, Canada is now second to Kazakhstan. In a recently updated report, the World Nuclear Association details Canada's significant role in meeting future world demand.
Recent Financings
Kivalliq intends to raise $17.8 million in with a combination of a flow-through offering and a non-brokered private placement.
Read the full stories at
Atoms for Energy