Unforeseen And Life Changing Benefits
Please Note: Blog posts are not selected, edited or screened by Seeking Alpha editors.
Elliott Wave, Gold & Precious Metals, Emini S&P 500
Seeking Alpha Analyst Since 2011
Avi Gilburt is founder of
ElliottWaveTrader.net
, a live trading room and member forum focusing on Elliott Wave market analysis with over 6000 members and almost 1000 money manager clients. Avi emphasizes a comprehensive reading of charts and wave counts that is free of personal bias or predisposition.
Avi is an accountant and a lawyer by training. His education background includes his graduating college with dual accounting and economics majors, and he then passed all four parts of the CPA exam at once right after he graduated college. He then earned his Juris Doctorate in an advanced two and a half year program at the St. John's School of Law in New York, where he graduated cumlaude, and in the top 5% of his class. He then went onto the NYU School of Law for his masters of law in taxation (LL.M.).
Before retiring from his legal career, Avi was a partner and National Director at a major national firm. During his legal career, he spearheaded a number of acquisition transactions worth hundreds of millions to billions of dollars in value. So, clearly, Mr. Gilburt has a detailed understanding how businesses work and are valued.
Yet, when it came to learning how to accurately analyze the financial markets, Avi had to unlearn everything he learned in economics in order to maintain on the correct side of the market the great majority of the time. In fact, once he came to the realization that economics and geopolitics fail to assist in understanding how the market works, it allowed him to view financial markets from a more accurate perspective.
For those interested in how Avi went from a successful lawyer and accountant to become the founder of Elliottwavetrader.net, his detailed story is linked here.
Since Avi began providing his analysis to the public, he has made some spectacular market calls which has earned him the reputation of being one of the best technical analysts in the world.
As an example of some of his most notable astounding market calls, in July of 2011, he called for the USD to begin a multi-year rally from the 74 region to an ideal target of 103.53. In January of 2017, the DXY struck 103.82 and began a pullback expected by Avi.
As another example of one of his astounding calls, Avi called the top in the gold market during its parabolic phase in 2011, with an ideal target of $1,915. As we all know, gold hit a high of $1,921, and pulled back for over 4 years since that time. The night that gold hit its lows in December of 2015, Avi was telling his subscribers that he was on the phone with his broker buying a large order of physical gold, while he had been accumulating individual miner stocks that month, and had just opened the EWT Miners Portfolio to begin buying individual miners stocks due to his expectation of an impending low in the complex.
One of his most shocking calls in the stock market was his call in 2015 for the S&P500 to rally from the 1800SPX region to the 2600SPX region, whereas it would coincide with a "global melt-up" in many other assets. Moreover, he was banging on the table in November of 2016 that we were about to enter the most powerful phase of the rally to 2600SPX, and he strongly noted that it did not matter who won the 2016 election in the US, despite many believing that the market would "crash" if Trump would win the election. This was indeed a testament to the accuracy of the Fibonacci Pinball method that Avi developed.
I have now entered my 9th year of providing analysis publicly through my service at Elliottwavetrade.net, and my 3rd year at The Market Pinball Wizard. Since we started 9 years ago, we have grown to over 6000 members through both platforms, and almost 1000 professional money manager clients.
For those of you that follow my public articles, you have likely come to know and follow us due to the high degree of accuracy in our market calls through the years. While we are certainly not perfect, our members track our accuracy at being around 70% within our analysis.
But, the intangibles from which our members have benefited through the years reach far beyond just the accuracy in the analysis alone. In fact, most of our members have noted how much they appreciate the mentoring that our analysts provide in the analysis and in the chat room. And, our members have resultingly performed significantly better than they did on their own:
"you have to consider the performance of many investors like me before this community. It was abysmal. . . I lost a lot of money shorting this market and had shitty returns for years before coming here. Coming here was transformative" (Defyant)

"I started keeping an annual log several years ago. Since I've been here, the number of trades each year has declined while the results are multiples of prior years." (bigdmetalman)

"during the last 6 months I have dialed the trading way back, being patient for setups, and following the blue boxes... All due to this service and SW." (bigdaddytuna)
Moreover, our members have continually told us on an almost daily basis how we have changed their lives:
"I just wanted to thank you and your team for an amazing analysis that you are providing. I signed up in Aug this year, and almost canceled it a month into the trial. I couldn't understand what you were talking about. I thought you guys were from Mars. Now, signing up with TMPW and keeping it has become one of the most important decision I made in my life. Since I started learning EW, I hardly read news anymore. Personally, I think people plug news into price reaction. Price reaction actually has nothing to do with news. Since Aug, my profit is almost up 7 figures. So Thank you SO MUCH for your blue boxes everyday, and Please KEEP them there all the time. Merry Christmas and Happy New Year!" (heythereyo)

"Here is an End of the Year THANK YOU, Avi and EWT staff! I joined EWT this year in April, and was really despondent in how my retirement plans and trading account had been performing. I have been trading commodities and stocks for 30 years, and could never keep what I would make in the market. Never. Always gave it all back, and then some. The desire of my heart was to trade for a living, and finally, after 30 years, I can see this as a possibility! I switched to a self-directed 401K at work, and started trading a personal account with you all in April. My accounts are up 320% since April thanks to you! Until then, I was looking at possibly not being able to retire for a long time, but not now. I never knew when to get out of a position. I was always wrong. If I hung on it went down. If I closed out the position, it went up. I was ALWAYS wrong...so frustrated. I owe my success all to you, Avi, and EWT, and the EWT members. SO from the bottom of my heart...THANKS so much. I really appreciate you all!! I have tears of happiness because of you all. HAPPY NEW YEAR, and happy trading in 2021. I am really looking forward to it, for once!" (wheat)
So, why not join us for a free trial and see if we can help change your investing career for the better.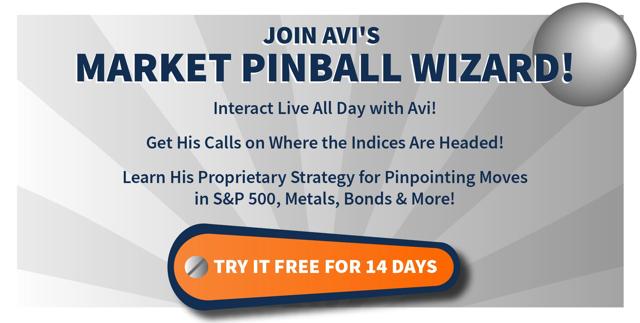 "Avi's service is a game changer! (ckmjr01)
"Join it. I did and never looked back. Avi's skill is impressive and a bit scary..." (rwgus)
"I see the best quants, strategists and technicians the Street has, and you and your group are amongst the absolute best. My trading desk is floored at turning levels you are able to provide." (Slu)
"I have made more money in a few months than I ever did trading other ideas!!" (billyb12)
"The accuracy is uncanny." (Steveandzoom)
"Avi, you are the best strategist that I follow and you have made more prescient calls than anyone on the street. I currently subscribe to your service and am very pleased. I have been a licensed financial advisor for over a decade and worked at a number of Fortune 500 companies in my career, including usbank, Morgan Stanley, Russell investment and now am a director and lincoln financial and i can tell you that none of the so called experts have virtually an ability to determine market direction. With you insight, i have made a killing and am basing my strategies around your advice. Keep up the good work and ignore the naysayers who are missing out on your sage advice!" (BlueChipInvesting)
CLICK HERE FOR A FREE TRIAL.
Seeking Alpha's Disclosure: Past performance is no guarantee of future results. No recommendation or advice is being given as to whether any investment is suitable for a particular investor. Any views or opinions expressed above may not reflect those of Seeking Alpha as a whole. Seeking Alpha is not a licensed securities dealer, broker or US investment adviser or investment bank. Our analysts are third party authors that include both professional investors and individual investors who may not be licensed or certified by any institute or regulatory body.