By Himanshu Jain (Forex Abode)
For quite some time we have been talking about the long-term resistance and support trend lines for GBP/USD. We have been talking for quite some time because these trend lines have been in place for quite some time and that is over past 4 years. There was a break of the support trend line during February 2013 and after that the GBP/USD support line had turned into resistance but then during the mid-September the pair had come back into the normal range i.e. between these old support and resistance trend lines and has been staying there since then. There have been many efforts to break over the resistance but all failed. Now the pair is once again trying to break over and this time the effort seems to be rather aggressive. Let's look at the weekly charts as follows:
GBP/USD weekly chart with resistance and support trend lines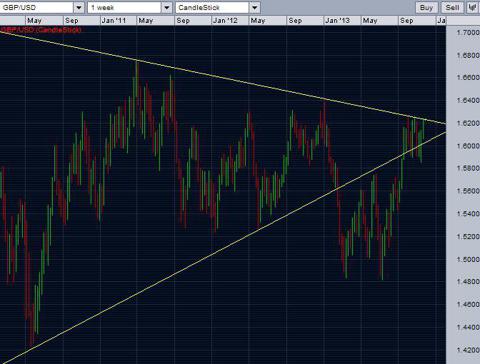 Please note that the above chart is not covering the past 4 years and for that refer to the chart on one of the old updates as per the hyperlink mentioned above.
A closer look of the weekly chart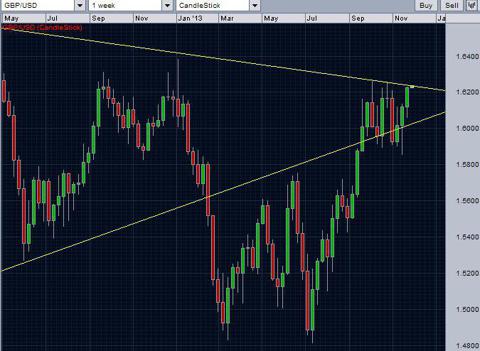 What to expect?
As we mentioned above that the recent attempts to break over this resistance have been very quick and none of the failures has brought any reversals as on the previous occasions. This makes the possibilities of a break quite high this time. A break over the recent 1.6260 would confirm a failure of this trend line resistance and such a move should take GBP/USD towards the next psychological range of 1.6500. However, if another failure takes place at 1.6260 then a drop towards 1.6060 or more can not be ruled out.
Further resources
Find more resources about other currency majors at including GBP/USD at www.forexabode.com
Disclosure: I have no positions in any stocks mentioned, and no plans to initiate any positions within the next 72 hours.
Additional disclosure: The article reflects the views of the analysts of ForexAbode.com and should not be taken as an investment advice. Forex Abode and SeekingAlpha will not accept any liability for any direct or indirect losses because of any investments or trades made because of this opinion.