I have been keeping an eye on NQ since last year. The stock price of NQ has been going down after the muddy water report came out. Actually, most of what muddy water claimed on the report is true. NQ exaggerated the user base in Chinese market. Dating back to NOKIA dominated era, NQ forced phone users to download its software sneakily by bundling itself with other software without users' permission. I did some research on NQ in different Chinese newspaper and forums regarding this issue.
By now, it is hard to make any fundamental analysis on NQ since their 10K may contain frauds. The price of the stock swings along the news lately. There is no way to predict it's price movement. I also check its implied volatility using January call 2015; it's as high as 140%. If you are risk averse investor, I suggest you'd better stay away from this stock. What does the implied volatility tell us? Should we short or long the stock? I don't know. What I know is we can use a strategy with Option to limit our downside. Since the volatility is so high, we are able to apply Straddle. We can buy a call option and put option at the same time. The potential loss will be purchase price for the options.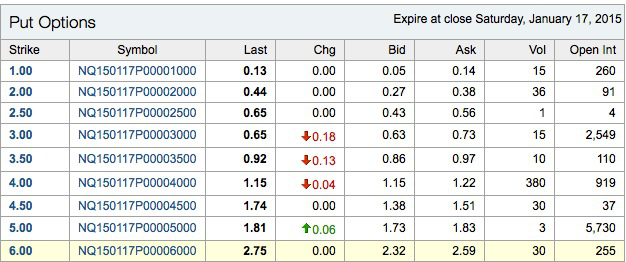 We can buy a call option at $5 for 2.14 and put option at $5 for 1.81 with a total of $3.95. If something goes wrong, what you potentially lose is $3.95. But the upside will be huge.
The stock price today is $5.37. If the audit report comes out and it turns out to be positive, you may end up gaining more than $3.95 within couple days. If NQ's Financial reports are fraudulent, it may go bust.
Disclosure: The author has no positions in any stocks mentioned, and no plans to initiate any positions within the next 72 hours.