By: John J Critchley, Jr.
There is an old saying by Lefty Gomez " I would be rather be lucky than good." Well, for one lucky customer Monday July 30th was one of those days. Chicago Bridge & Iron Co (NYSE:CBI) announced that it would buy Shaw Group (NYSE:SHAW) for about $3 billion in cash and stock. This merger would create a large engineering and construction company focused on the energy sector.
On Thursday July 26th, this customer bought 2,000 SHAW August 29 calls for $.25 Total outlay: $50,000.
Source: Livevol(NYSE:R) Pro (www.livevol.com)
On Monday July 30th, CBI offered $46 per share - $41 in cash and $5 in stock. This represented over a 70% premium to Shaw's closing price the proceeding Friday.
With SHAW up more than 55 percent since the deal was announced, these calls are now trading at $10.50 Worth: $2,100,000.
Source: http://sogotrade.com
The total profit for this savvy customer was a cool $2,000,000. This represents over a 5,000 percent return for the investor and is sure to have raised some eyebrows in the securities enforcement world. Why the suspicion? Firstly, these calls were nearly 15% out-of-the-money before the customer purchased them and now are very deep in-the-money. Secondly, before the trade occurred the delta in these calls options was approximately 0.15. This means that there was a roughly 15% percent chance that these options would be in-the-money by at least $.01 by expiration. The fact that these low probability options are now over $10.00 in the money has surely raised some red flags over at the SEC. The timing of the trade, just a few days before the announcement also appears quite fortuitous.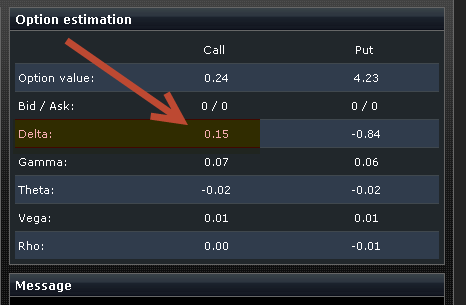 Source: http://sogotrade.com
These type of unusual trades before a merger announcements are not that uncommon in the options market. The SEC has recently accused a Hong Kong-based firm of insider trading ahead of the public announcement that China's oil producer CNOOC planned to acquire Nexen.(Source: Click here)
We have no knowledge that this trades were based on inside information, but the timing and incredible profit generated by them has surely raised the antennas of the regulators.
We all can wish to be so lucky with our trades.
Stay tuned……
Notes: Prices quoted where the prices at time of submission and do not reflect current market prices. You are solely responsible for your own trading and investments decisions and the ideas presented in this article are trade analysis, for educational purposes only and do not constitute buy/hold/sell recommendations
Disclaimer
---
We are not liable for any trading decisions made by any reader. NO advice is given or implied. The information offered in this article is for demonstration purposes ONLY and should not to be either construed as an offer or considered to be a recommendation to buy or sell any options .
Your use of this information is entirely at your own risk. It is your sole responsibility to evaluate the accuracy, completeness and usefulness of the information. You must assess the risk of any trade with a professional broker, or financial planner, and make your own independent decisions regarding any trades mentioned herein. This is not a solicitation to buy or sell any options, or to purchase or sell any credit spreads. Trading options only carries a high degree of risk, is not suitable for all traders/investors, and you may lose all of your premium money invested in the options. If you have never traded options before, we strongly recommend that you read a little background information made available by the government. Only you can determine what level of risk is appropriate for you. Also, prior to buying or selling an option, a person must receive a copy of Characteristics and Risks of Standardized Options.
Past performances DO NOT guarantee future results. Please consult with your own independent tax, business and financial advisors with respect to any trade. We will NOT be responsible for the consequences of anyone acting on this purely demonstration material.
Disclosure: I have no positions in any stocks mentioned, and no plans to initiate any positions within the next 72 hours.