Why Apple is a BUY at these levels!
Please Note: Blog posts are not selected, edited or screened by Seeking Alpha editors.
Seeking Alpha Analyst Since 2011
Sanjay Dalal is the CEO / Founder of OGoing Inc., Social Network that helps Small businesses, entrepreneurs, SMBs and startups promote and grow their business with innovative Social Media. Get your business going on Ogoing: http://www.ogoing.com Dalal is the chief innovator of InnovationMain.com, author of leading Innovation eBook & Resource kit used by over 1,000 innovators worldwide, and Apple's innovation strategy. Learn more: http://www.InnovationMain.com Dalal is the founder of India Business Network, global network of over 3,000 businesses doing business with Indian professionals and businesses. More: http://www.indiabiznet.com Dalal was the President & Managing Director of Innovation Index Group (Founder of the Innovation Index of the top 20 innovators in North America). Dalal invests in Technology companies, and tracks their product launches, management changes, and quarterly earnings announcements.
Apple (AAPL) has corrected 8% from the 52 week high of $364.90 set on Feb 16, 2011.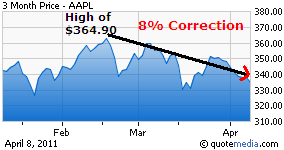 Apple is set to announce record quarterly earnings this month on the heels of the hot launch of the iPad 2 and iPhone 4 on Verizon. The average quarterly estimate is $5.33 EPS on $23.18 billion of quarterly sales - a spectacular growth of 60.10% in earnings, and 71.70% in sales. Compare this to the quarterly earnings growth of 20.80% for the average S&P 500 company. Thus, Apple earnings growth is poised to be more than three times that of the average S&P 500 company. 

Apple Muddied Picture

Apple's current P/E is 18.69, while the forward P/E is only 12.56 - a significant undervaluation of Apple's future potential. What's wrong with this picture? Here are possible explanations: 1. Retail investor is holding out until after the earnings are announced 2. Current NASDAQ-100 rebalancing that reduces Apple's 20% stake to around 12%, and surrounding liquidation by funds 3. Steve Jobs medical leave, and speculation about his health 4. Downgrade by JMP Securities analyst.


Apple quarterly milestones
Apple has made significant announcements during the last quarter, which should translate to real growth in quarterly sales. Key Apple milestones include:
1. iPad 2 launch in U.S.A on March 11
2. iPad 2 launch in 25 countries on March 25
3. Revved up MacBook Pro launch on February 24
4. iPhone 4 launch on Verizon Wireless on February 2
5. App Store growth juggernaut on January 22

What will be Apple's earnings this quarter?

Three earnings scenarios are plausible:
1. Apple beats the average earnings estimates of $5.33 by at least 50 cents, and announces in the vicinity of $5.83 (40% probability).
2. Apple makes the average earnings estimate of $5.33 (50% probability).
3. Apple misses the average earnings estimate by 10 cents and announces $5.23 earnings (least likely, 10% probability).

Accounting for all probabilities, Apple's mean earnings will be around $5.52 for this quarter; this will increase its prior 12 months earnings to $20.10. If Apple's current P/E were to remain the same at 18.69, Apple stock price should appreciate to $375.57.

There you have it: If Apple delivers reasonable quarterly earnings of $5.52, and current P/E of 18.69 remains constant, Apple's stock price should jump to $375.57.

What's the upside?

Some analysts estimate Apple's earnings to be as high as $5.98.  If Apple were to kill its quarterly earnings, and make this high estimate, watch out from above! This will increase Apple's prior 12 months earnings further to $20.56, or fetch an Apple stock price of $384.27! (at the current P/E of 18.69)

On an average, Apple has beaten the average earnings estimate by 20.3% during the previous four quarters. If Apple were to match this average, Apple could deliver whopping surprise earnings of $6.42. Imagine that! This will increase Apple's prior 12 months earnings to $21, or fetch an even higher Apple stock price of $392.49! (at the current P/E of 18.69)

Thus, we have three possibilities of where the Apple stock price could be post earnings:
1. $375.57 (for mean earnings of $5.52)
2. $384.27 (for analyst high earnings of $5.98)
3. $392.49 (for an Apple high earnings of $6.42)

Analysts are even more bullish

The mean target for Apple's 12 month price as per 46 analysts is $424.80, which is higher than all three possibilities above. The median is $440.00. The high target is $550.00, and the low target is $200.00. The high-low 12 month average target price is also $375.

Apple Price Target Summary
| | |
| --- | --- |
| Mean Target: | 424.80 |
| Median Target: | 440.00 |
| High Target: | 550.00 |
| Low Target: | 200.00 |
| No. of Brokers: | 46 |
Data provided by Thomson/First Call

Caveat: Stock price drops after earnings

Apple stock has not done well immediately after earnings announcement. On an average, Apple stock has actually dropped 4.48% post earnings during the previous four quarters, before it begins appreciating. This could mean that further downside to Apple stock is entirely possible after the earnings are announced this quarter. However, one can argue that Apple stock has already corrected significantly this quarter, and is priced for perfection post earnings to go up. 

Where will Apple stock price end up after quarterly earnings call is anybody's guess... For instance, if Steve Jobs participates in the earnings call, the investors will welcome him and get excited about Apple's future. All eyes will be on the iPad 2 quarterly sales, Mac shipments, iPod sales, iPhone 4 growth and importantly, margins. If Apple were to hit a home run on all of these, Apple stock has nowhere to go, but up! We do know one thing for sure: At current price point of $335.06 as of Friday's close, Apple is quite undervalued! Even if the Apple stock remains undervalued and the P/E of 18.69 stays constant, it is reasonable to expect at least a 12% upside in the near term post earnings. $375 could be just round the corner!
Disclosure:
I am long
AAPL
.
Seeking Alpha's Disclosure: Past performance is no guarantee of future results. No recommendation or advice is being given as to whether any investment is suitable for a particular investor. Any views or opinions expressed above may not reflect those of Seeking Alpha as a whole. Seeking Alpha is not a licensed securities dealer, broker or US investment adviser or investment bank. Our analysts are third party authors that include both professional investors and individual investors who may not be licensed or certified by any institute or regulatory body.